Knicks vs. Heat: Twitter Reacts as Jeremy Lin Is Cooled off by LeBron James
February 24, 2012

Mike Ehrmann/Getty Images
Jeremy Lin and the New York Knicks proved to be no match for LeBron James, Dwyane Wade and the Miami Heat, who also featured Chris Bosh. The Knicks went to Miami, only to be beaten by the final of 102-88 on Thursday night.
Come on, we all knew this was going to happen, right?
If you missed it, all you really need to know is that Linsanity got a significant reality check against the Heat. Lin scored just eight points, dished out just three assists and committed eight turnovers. He was 1-of-11 from the field.
Yeah, it was brutal.
Carmelo Anthony and Amar'e Stoudemire didn't help matters, combining for 32 points on 11-of-27 shooting. 'Melo did the bulk of the damage, making just seven of his 20 field-goal attempts.
But you don't need me to summarize it all for you. For that matter, you don't even need highlights. A quick stroll around the Twitterverse will give you the gist of what this game was all about. 
The "Lin Pun of the Night" tweet award goes to Adam Zagoria of NBA.com: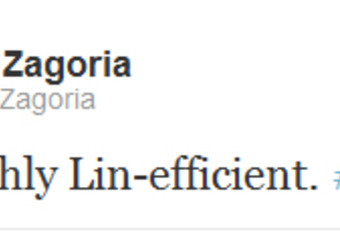 Indeed. He definitely was not excel-Lin-t.
Peyton's Head had a good one too: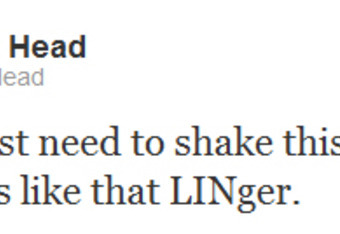 Problem: The All-Star break is up next. This loss is going to linger for at least the next couple of days.
Michael Vick offered this astute observation of the Heat: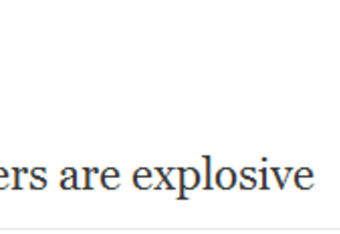 Agreed.
Dan Wolken of The Daily got slightly more in-depth: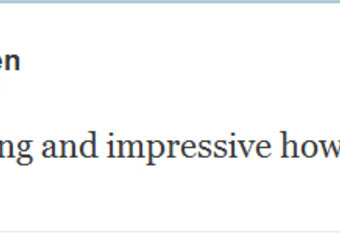 I'll agree to that, too. It's like watching somebody play a video game in real life.
Denver Broncos wide receiver Eddie Royal is a little confused about how good the Knicks are, but at least he gave the Heat props: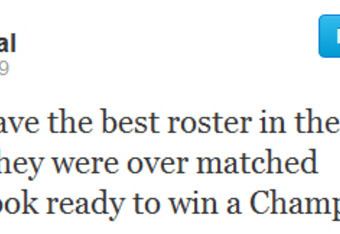 They most certainly do, but the Knicks most certainly do not have the best roster in the NBA.
Arash Markazi of ESPNLosAngeles.com pointed out that the Heat handled Lin exactly how they wanted to handle him: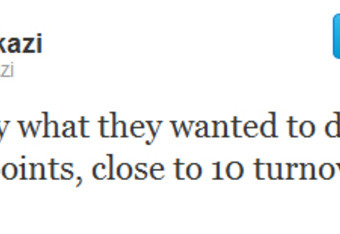 Adam Zucker of the CBS Sports Network doesn't think the Heat should take too much credit for Lin's poor effort: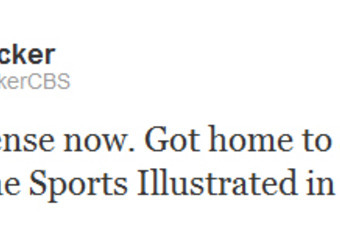 This wouldn't have happened if it had only been one SI cover. Putting Lin on two covers in a row really doomed him.
Bill Reiter of FoxSports.com chose to give Lin a little credit: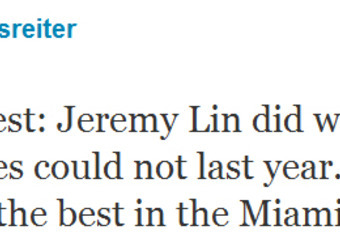 Zing.
Jason Whitlock chimed in with this totally non-offensive observation of the Knicks: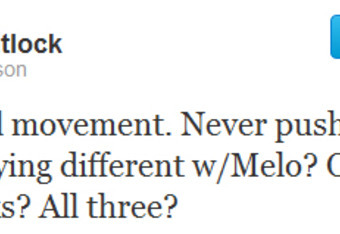 Via Chris Tomasson of FoxSports.com, we know that Spike Lee had a different explanation:
For the record, Spike, the Knicks only had 19 turnovers. Give them some credit.
This exchange between Ethan Strauss and somebody who dared to argue with him highlights what 'Melo's biggest problem is: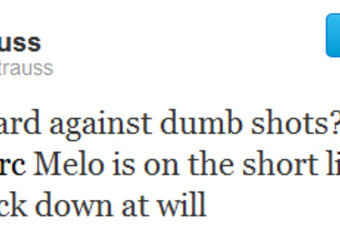 Answer: Just let them take them.
Pete Prisco of CBSSports.com put it even less delicately: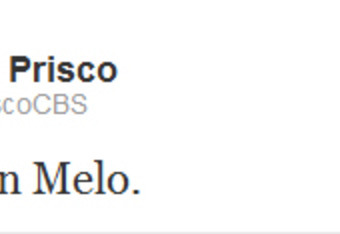 I would agree, but I think people have already been blaming it on 'Melo.
Bleacher Report's Thomas Delatte urged Knicks fans to come to grips with the reality of the situation: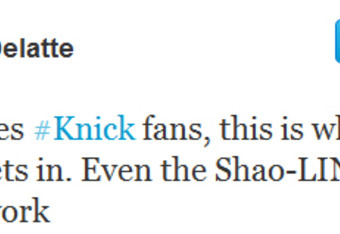 I'm personally willing to give it more time, but it's clear that trio has work to do.
Gary Parrish of CBSSports.com sounded like he would rather live in the past: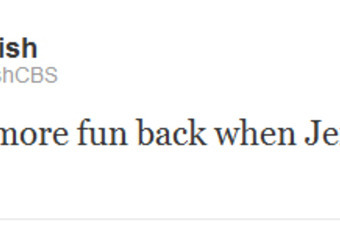 He clearly hasn't been watching Heat games.
The fake Bill Walton took it upon himself to apologize for his past Lin tweets: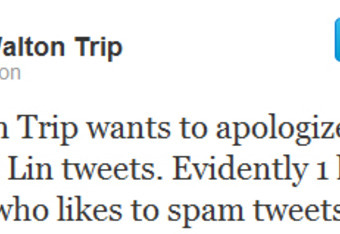 Myles Brown of SLAM magazine offered this honest take on Linsanity: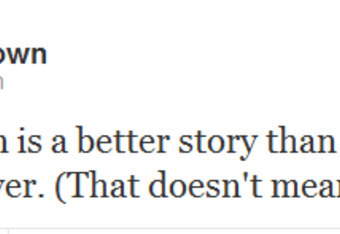 Alas, I'm afraid he's right. Build 'em up, break 'em down. This is the way of things.
Plenty more where these came from. Stay tuned.
Follow me on Twitter. I command it.