Penn Basketball: Penn Quakers Visit Harvard Crimson for First Place
February 24, 2012

In the Ivy League, weekday games are a rarity. The occasional Penn-Princeton Monday night showdown happens, but Friday and Saturday nights are reserved for Ivy League basketball. This weekend is no different, as the Quakers visit the Dartmouth Big Green, and the league leaders Harvard Crimson:
Who: (15-11, 7-2 Ivy) Penn Quakers @ Dartmouth Big Green (5-21, 1-9 Ivy)
What: Ivy League Basketball
When: Friday, February 24 at 7:00pm
Where: Leede Arena, Hanover, New Hampshire
Friday night's game is more of a trap game than an actual game. At 1-9 in the Ivy and 5-21 overall, the Big Green's season has been disappointing to say the least. Not only did Dartmouth have three losing streaks that were longer than four games, but they simply cannot score the ball. Dartmouth is 335th in the country in PPG, averaging only 58 per game.
Last Time Through:
Penn Quakers 58, Dartmouth Big Green 55
On February 11, the Penn Quakers were gassed. After a crushing defeat against Harvard, Penn didn't come out sharp against the 0-8 Big Green. Dartmouth's freshman forward Jvonte Brooks scored 18 points and grabbed 10 rebounds, but Dartmouth fell to the Quakers 58-55 behind Penn guard Tyler Bernardini, who scored 15 points to hold off the rally.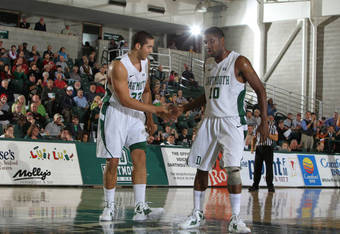 The Quakers were up 45-30 with 14:00 minutes to play, but the Big Green rallied back. Zack Rosen hit the game-winning three-pointer with three seconds remaining to keep Penn in the Ivy League chase.
The Verdict: 
Penn Quakers 68, Dartmouth Big Green 52
Pennsylvania will come out fresh, relaxed and re-energized after two huge wins over Cornell and Columbia. Bernardini's leg is hurting him, but we assume he will play at least 20 minutes on Friday. Look for Coach Jerome Allen to keep the Quakers fresh for Saturday night's game, but the Penn backcourt will overpower the weak Dartmouth offense.
Who: (15-11, 7-2 Ivy) Penn Quakers @ Harvard Crimson (23-3, 9-1 Ivy)
What: Ivy League Basketball
When: Saturday February 25 at 7:00pm
Where: Lavietes Pavilion, Cambridge, Massachusetts
Channel: ESPN3.Com, WatchESPN
Well well well. No one knew this game would determine the Ivy League title. If Penn wins against Dartmouth, this game will have more buzz than the February 10th matchup at the Palestra. The Crimson rebounded after their brutal loss at Princeton on February 11 with wins over Brown and second-place Yale. Both were at home, but the hostile confines of Lavietes Pavilion will host Penn and Princeton this weekend.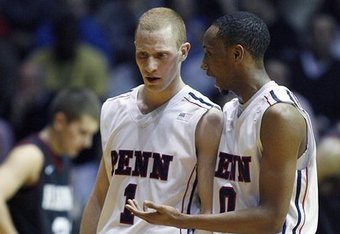 Without doubt, this is the biggest weekend for Harvard basketball in...years. Princeton isn't expected to win the Ivy League title because of its three losses, but the chance to beat Harvard is always a nice incentive. Penn will be scoreboard-watching, because a Harvard loss helps the Quakers cause even more. It is possible for Harvard to get swept. Is it likely? No. Will it happen? Probably not. 
However, you never know about the Ivy League.
Last Time Through:
Harvard Crimson 56, Penn Quakers 50
Penn fans, I suggest you skip to the next paragraph.
I'd like to call the Penn loss to Harvard one of the most dissapointing losses in Penn's storied history, but they weren't expected to win. Harvard was nationally ranked and came in as a huge favorite. The Quakers almost did it. The problem is that they almost won. A loss is a loss, and the Quakers failed to take the Crimson down.
When Zack Rosen shoots 6-20 from the floor, you're almost guaranteed a loss. Penn controlled Laurent Rivard and Keith Wright, as the two starters scored only a combined six points in the win. The problem was scoring. Rosen scored 16 points, but he played his worst game of the season. Cartwright added 12, but that was more than half of Penn's 50 points.
Kyle Casey had another terrific game, scoring 15 points. The Quakers faithful was disappointed, but they'll have another shot on Saturday.
Key Matchup:
Henry Brooks (Penn) vs. Kyle Casey (Harvard)
First off, Brooks plays only around 15-20 minutes this season. The freshman needs work on the offensive end, but is learning fast.
Kyle Casey is one of the Ivy League's best. Casey averages 11 points and seven rebounds, but plays very physical down low. He's not really tall for a forward, at 6'7" and 215 pounds. Penn has ran a four-guard offense in the last couple weeks, with Steve Rennard replacing Bernardini and Fran Dougherty coming off the bench.
Look for Casey to control the paint, but Coach Allen hopefully knows how to stop Casey.
What's On The Line:
First Place.
It's more complicated than that. Harvard has played one more game than Penn, so Harvard would technically stay in first with a Penn win. Still, Harvard has a fairly easy schedule after this weekend, so the call to action needs to happen right away. Penn still faces Princeton and Yale, so this is only round one of the Ivy League race. 
Harvard is 9-1 while Penn is 7-2.
The Verdict:
Harvard Crimson 64, Penn Quakers 59
This one will be close. However, I can't see the Quakers marching out of Cambridge with a victory. Harvard is just too good. There is a reason why they were ranked, and that's Rivard, Casey and Wright to answer the question. 
If Rosen plays big, makes shots and gets a defined No. 2 scorer, Penn will win. If he doesn't, I don't see the Quakers defeating the Crimson.
Teddy is B/R's Philadelphia College Basketball writer. Contact him on Twitter (@Teddy_Bailey).