Cardiff City vs. Liverpool: Why Andy Carroll Is Ready to Shine for Reds
February 23, 2012

Clive Mason/Getty Images
Andy Carroll is ready to justify his £35 million price tag in this Sunday's Carling Cup final against Cardiff City.
The former Newcastle star made his move to Anfield on the last day of the 2011 transfer window. The move itself was hailed and dismissed all at the same time, with some seeing him as the one who would fill Fernando Torres' boots after the striker left for Chelsea the same evening. Others were skeptical of any player who would fetch such a price tag, the highest ever for an English player.
A year and a month removed from that date, the fans have seemed to all side with the latter as Carroll's poor play has him with only eight goals in 40 appearances for the Reds. And the only thing he has in common with the Spanish striker he was compared to is being a vastly overvalued talent.
With the emergence of Luis Suarez, Carroll has been able to hide under the defense that at least he is part of an improving side. However, as Suarez's off-field (and at times on-field) issues outside of his ability cloud his future, Carroll is being asked to step in and live up to his billing.
Last weekend, he got on the scoreboard for only the sixth time all season, as Liverpool thrashed Brighton 6-1 in the fifth round of the FA Cup.
The Anfield faithful will be glad to hear that it felt like more than just a random event to the striker:
This is the best I've felt since I have been here, without a doubt. I feel fit and confident and I think it is showing in my performances. I feel like I am doing well and have just started to get going. I am scoring goals and I feel like I am doing well in games now. It's all starting to come together for me. I'm getting around the pitch more and getting involved. I think it shows that I am happier and more confident. I'm just pleased that things are going right.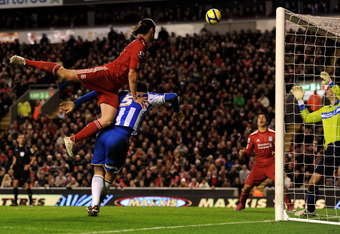 Michael Regan/Getty Images
On Sunday, Liverpool faces off against Cardiff City in the Carling Cup final at Wembley.
For most Premier League teams of Liverpool's stature, this is a time where the reserves will come out and get their moment of fame as well as a run to show they deserve first-team minutes.
However, Liverpool is in real danger of becoming Arsenal-esque in terms of silverware. The once undoubtedly most dominant side in England is in danger of going six years without a trophy of any sort.
While this one perhaps does not hold much place in a cabinet with 18 English championships and five European, it is the first stepping stone on the way back to the kind play that has built them such a reputation over the years.
Their opponent, Cardiff City, is not to be underestimated despite being in the second division. They have managed 50 goals in their league and have only been shut out four times all season.
However, their defensive record is not as impressive, conceding 39 goals, more than any team currently contending for promotion. In the Carling Cup they have fared better in the back, not giving up a goal in their last four matches.
Generally going into these kinds of ties where there is a such a disparity in how the two clubs traditionally view the competition, the lesser side will come with more vigor and motivation hoping to ride that to an upset.
But I doubt anyone will be more motivated to perform than Carroll:
I've never been to a cup final before so it's a great feeling to get there and I'm just hoping we can win it now.
His biggest criticism as a Liverpool player has been an inability to step up and score when it is most needed. Not only have his goals been few and far between, but they have been mostly in matches like last week's 6-1 rout.
This Sunday offers a real chance for him to play the hero. The defense he will be facing is strong, but not invincible and while the eyes of the Red fans around the world will be on him, it is not like the pressure of a northern derby against United.
Cardiff will most likely go out there knowing that if they can shut down Suarez, they have a good chance of winning the match.
It will be up to Carroll to make them pay for that strategy.
If he is able to get one and find his groove, then the floodgates may open for the striker. The best possible outcome sees them winning and he being the main reason for it. Confidence of the fans and the club could be restored in him, the most important thing for any striker to have.
With Liverpool four points back of that last Champions League spot, they need all their players to be at their very best going into the final third of the season, making this Sunday's final a perfect time for Carroll to find his touch.
While the striker uses the Cardiff match to springboard into form, key matchups against Arsenal, Sunderland and Stoke lurking ahead is where he can really begin to justify his price tag and cement his place in Liverpool lore.