How Far Does an NFL Contract Really Go?
February 21, 2012

Justin K. Aller/Getty Images
The lucrative NFL contract is a highly scrutinized yet increasingly misunderstood agreement that often empowers the powerful NFL owners more than the product on the field.
But wait—these are professional athletes getting paid millions to play a game, right?
Inevitably, fans will argue this notion when encountering claims that NFL players are underprivileged when it comes to how contracts are negotiated, played out and terminated.
However, unseen, rarely discussed factors permeate the decisions of NFL athletes when putting ink to paper.


Contract Structure
There are two important concerns that must be considered when looking at an NFL contract.
First, almost none of an NFL contract is actually binding to the team. A player is not guaranteed the money he is promised when signing the deal. Only the money for the season being played is guaranteed.
The only part that the franchise is always on the hook for is the signing bonus. Thus, contract negotiations are often put on hold simply on the basis that a signing bonus be increased for the peace of mind of the player.
The rest of the contract is completely subject to player performance and injury avoidance.
Take, for example, the contract signed by Tennessee Titans running back Chris Johnson. Johnson inked a controversial four-year extension, averaging $13.4 million to go with a $10 million signing bonus. 
Pro Football Talk breaks down the incentives required for Johnson to receive full payment for each year. Things such as rushing yardage and workout attendance dictate whether he gets full compensation.
Simply put, if Johnson were to suffer a career-ending injury or get cut, he would only receive his $10 million bonus along with his 2012 salary of $8 million. That's $18 million of a projected six-year, $56 million deal. Or 18 percent. 
In the NBA, almost all money is guaranteed. Grant Hill received a seven-year, $93 million contract from the Orlando Magic. Despite playing only 47 games in his first four years of the deal, Hill eventually saw all of the cash.
In America's most popular sport, contracts yield far less than one would expect from these lucrative signings.
Other Hampering Factors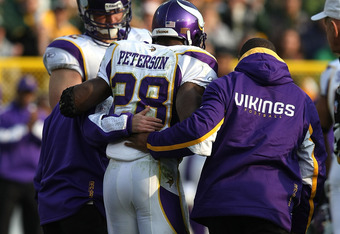 Jonathan Daniel/Getty Images
More than actual dollars, NFL contracts inhibit athletes from long-term prosperity after their careers are finished.
Starting in college, players have the ability to skip one or multiple years of eligibility to enter the NFL draft, thus leaving college degrees unfinished. That places severe limits on all players once their careers are done, which is 3.5 years on average.
Many players are consequently stuck hoping for a post-career job in football analysis, or they must return to finish their college degrees.
Long-term health effects continue to hurt the image of the NFL and how players are treated once they are through.
When effects from injuries mount as former players get to be 40 and 50 years old, where does the money come from to pay the health bills?
Since players are often financially strapped because of poor planning, health consequences cripple the retirements of former football players.
The answer is for the league to be more involved in assisting the financial well-being of players during their careers. Therefore, players will be prepared for life after football and the league will improve its image in regards to post-career relationships.
How Far Does a Contract Go?
The answer truly lies in the guaranteed salary and the financial responsibility of the player. Until the NFL becomes more involved in the figurative and physical health of its players, its image will suffer and future lawsuits could ensue.