Frankie Edgar Talks UFC 144, Heart of a Champion, Foreign Soil, and More
February 24, 2012

9,637
That is the total amount of miles UFC lightweight champion Frankie Edgar (14-1-1) will be traveling to take on No. 1 contender Benson Henderson (15-2) in a 155-pound clash at UFC 144.
However, Edgar is embracing every step (or mile) along the way, as he realizes he's been given a once-in-a-lifetime opportunity to fight on a main event in Saitama, Japan.
"It's going to be pretty awesome," Edgar told Bleacher Report. "I guess you could say that I'll be going from the east coast to the far east.
"Mixed martial arts is such a big thing in the Japan culture. MMA really came from Japan. Having the opportunity to fight in Japan will be one of the most memorable things of my lifetime," said Edgar. "It's going to be amazing."
In order to make his experience even more memorable, the fearless Edgar will need to overcome a much larger Henderson who also has hopes of making his journey to Japan worth the effort.
However, Edgar's 1-0 when fighting outside of the United States; he captured the lightweight title with a win over BJ Penn at UFC 112 in Abu Dhabi.
Edgar said his experience fighting outside the U.S. has come to be his most memorable to date, and he hopes to push his record to 2-0 on foreign soil.
"The most memorable moment of my career to date is definitely when I first won the title against BJ Penn. Just for the fact that I won the UFC title for the first time. Then this last fight too, with Gray just because of the history we had with each other and the way it ended," said Edgar. "Hopefully this one with Henderson will be up there too."
In order for "The Answer" to defend his title for a third time, he'll have to overcome the athleticism of Henderson, who many believe is the favorite.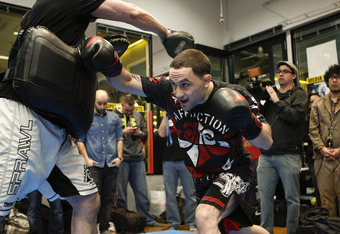 But when push comes to shove, Edgar holds UFC gold for a reason.
"It's really tough to say who has the upper hand over who. We are both elite athletes but you know I am the champion and he is the No. 1 contender for rightful reasons," stated Edgar. "This is for the UFC title and this is my fourth time at it.
"If you look at him, he's a bigger guy but that's what's great about MMA. You never know what's going to happen. It could end anyway. I obviously would love to end the fight early and get back to the gym but he's a tough task," said Edgar. "For me to think I'm just going to go in there and stop him would be foolish."
However, finishing his opponent may be an easier task for Edgar as Henderson will be squaring off with arguably the pound-for-pound toughest fighter in the UFC today.
Edgar's unwillingness to surrender has captured the hearts of fans across the globe.
"It's ingrained in me I guess you could say. It was the way I was raised. I just don't like to lose and sometimes you see no choice," stated Edgar. "Sometimes you get put in a position where you are going to lose.
"But, if there is something I can do, maybe not giving up or not tapping then I'm going to do it. It's finding a way to win you know," said Edgar. "It is in my hands and I'm going to do everything I can do to make sure that I come out the winner this time around as well."
When asked if he was the toughest fighter in the UFC today, Edgar laughed and concluded by stating "that's really tough for me to say. You see a lot of tough guys in the UFC today who never give up or never quit.
"We'll play it safe by saying maybe."

For additional information, follow Garrett Derr on Twitter.