NHL Trade Deadline: Philadelphia Flyers' Trade Deadline Primer
February 21, 2012

Bruce Bennett/Getty Images
The Philadelphia Flyers have made a couple moves to bolster their blue line in the week leading up to the NHL trade deadline.
The Flyers acquired D Nicklas Grossman from Dallas to give them another "Chris Prongerish" type of player.
Then late Saturday, Paul Holmgren swung a deal with Tampa Bay to bring D Pavel Kubina to the club.
Both are giant defensemen and both are figured to bring what was lacking to the Flyers blue line—size and strength. With Chris Pronger likely out for the rest of the season, the Flyers needed some more size to help with their struggling goaltenders.
Both Grossman and Kubina were traded for draft picks and minor-leaguers respectively and both will become free agents at the end of this season.
All this sounds good on paper and all, but how will these two defensemen affect the current slide that the team is in?
Now both are upgrades to the Flyers' young blue-liners like Marc Andre Bourdon and Erik Gustafsson, I'll admit that, but the Flyers still haven't really addressed the club's biggest question mark.
And you guessed it. Once again, as the Flyers head into their stretch run, goaltending is the concern. Even after they shelled out $51 million to an "elite" goaltender and even after what was supposed to be a stronger sophomore season, both Ilya Bryzgalov and Sergei Bobrovsky have been disappointments this season.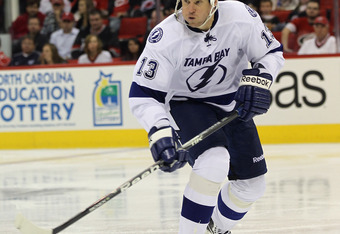 Bruce Bennett/Getty Images
Bryzgalov seems lost in the universe somewhere and Bob seems to just lose focus at times in critical situations.
Holmgren has given no indication that his two goaltenders will change during the rest of the season. If you think about it, what can they really do? Bryzgalov is not going anywhere and Bob is a serviceable backup that the team doesn't want to lose. Let's face it. Bryzgalov is just going to have to find it in his soul to play in this city. There is nothing the Flyers organization can do now.
As for the Flyers doing any more dealing, I think Holmgren is satisfied with acquiring the two aforementioned defensemen.
One move that I could see him making is acquiring another enforcer or a fourth-line player for depth. Tom Sestito will be out for over a month and the Flyers may need another veteran to even out the young team.
As for Rick Nash, you can forget about that one. Nash will not be a Flyer. Not only is the asking price too high right now, but the Flyers don't need him.
Sure he would be good and make the offense better, but do they need to get better? Philadelphia leads the league in goals per game averaging 3.31. Considering acquiring Nash would cost the Flyers some of their young-and-coming talent, I don't foresee Holmgren pulling the trigger on a deal with Columbus.
Kubina and Grossman are headlining the Flyers' deadline deals, but it will be up to the men between the pipes to change the headline of the Flyers roller-coaster season.