NHL Trade Deadline: Who Won the Hal Gill Trade?
February 19, 2012

Bruce Bennett/Getty Images
Montreal Canadiens trade D Hall Gill, 2013 fifth-round pick (conditional) to Nashville Predators in exchange for F Blake Geoffrion, F Robert Slaney, 2012 second-round pick. 
Determining which side won this deal really depends on how you look at it.
If you're going to judge based on short-term benefit, then obviously Nashville got the better end, given that Hal Gill is the only NHL-ready player in this group.
Gill is 6'7", 244 pounds and packs a whole lot of "ouch." Simply put, he's practically a freight train on skates.
The Preds are clearly gearing up for what they hope will be a deep playoff run, and adding some more size and stability to their defense—already one of the league's best—will only help. 
Long-term, however, I think the Habs got the better end.
GM Pierre Gauthier hasn't exactly done a very good job with this team, which will likely lead to his dismissal this summer, but he made a great move here. 
Blake Geoffrion has plenty of upside and can play either center or wing. He's shown the ability to score goals and not just the pretty ones.
Geoffrion has a nose for the net and will go to the dirty areas around the net to make things happen. He's also an excellent skater and is strong on the puck. 
He's the grandson of Habs legend Bernie "Boom Boom" Geoffrion, and though the media will have a field day talking about how much pressure Blake must now feel playing in Montreal with that last name, that's something that's generally a non-factor for these guys.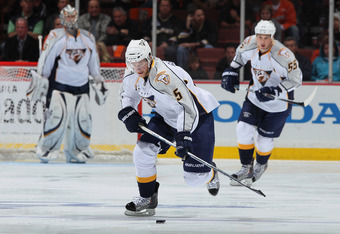 Jeff Gross/Getty Images
If Geoffrion plays 40 games or more for the Canadiens next season, Nashville gets that fifth-round pick. 
Montreal also received a second-round pick in the deal and that obviously gives (insert new GM's name here) an opportunity to add another solid prospect to the pipeline. 
As for Robert Slaney: He's struggled to find his offensive touch in recent years, but has decent size (6"2, 203 lbs) and is an aggressive fore-checker. Slaney has 20-goal potential, though it appears unlikely he'll reach it. 
If I told you I was expecting this kind of a return for Hal Gill, I'd be lying.
Then again, I suppose there aren't really any bargains near or at the trade deadline. I can only imagine how much, say, Ryan Suter would fetch in a trade, given how much the Habs received for Gill. 
Comments are welcome.