Sears BracketBusters: Iona Gaels Defeat Nevada Wolf Pack 90-84
February 18, 2012

The Iona Gaels (22-6) put on a running, pressing and shooting exhibition before a national ESPN audience, winning a Sears BracketBuster game 90-84 over the Nevada Wolf Pack (22-5) in New Rochelle.
Lamont "Momo" Jones led Iona with 18 points and four assists.  Scott Machado had 13 points and 15 assists, as he continues to lead the country in assists per game.  Forward Randy Dezouvre made one clutch shot after another and finished with 17 points.
For Nevada, Olek Czyz dominated the boards in the early going and ended up with 28 points and seven rebounds.  Deonte Burton had 21 points. 
It was a playoff atmosphere in New Rochelle, as the Wolf Pack traveled across the country to play the Iona Gaels.
Iona Coach Tim Clues went into the game knowing he would have to depend on speed and quickness to handle a much larger Nevada team.
Nevada's senior from Poland, Olek Czyz, showed good hands by making six quick inside points to give the Wolf Pack a 17-15 lead.
Iona's Kyle Smyth hits a three-pointer to tie the score at 20.  Dario Hunt scored inside for Nevada, and then Randy Dezouvre answered.  The Wolf Pack switched to a zone defense, which helped them regain the lead, 36-27.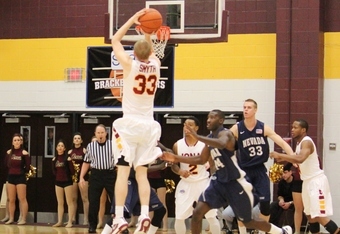 But the Gaels came back with a 16-7 run—sparked by a Momo Jones three and followed with a Taaj Ridley jumper, a Mike Glover layup, a Sean Armand jumper and a Kyle Smyth three-pointer.  The Gaels went into the locker room at halftime leading 47-46.
In the second half, the Gaels came out running and pressing.  Nevada struggled to keep up the pace.  The Gaels took a 57-51 lead on a Randy Dezouvre jumper. 
Later in the half, Momo Jones artfully made three inside plays to give the Gaels an 80-69 lead. 
Nevada kept the game close with a couple of inside baskets by Dario Hunt.  But Iona gained the win 90-84.
Ken Kraetzer covers Iona basketball for WVOX 1460 AM in New Rochelle, NY.  His Twitter address is @SAL50NYRADIO