Jeremy Lin ESPN Headline: Media Outlets Must Look Past NY Knicks Star's Race
February 18, 2012

Chris Trotman/Getty Images
The fact that New York Knicks star point guard Jeremy Lin is an Asian-American is lost on no one. After ESPN's latest snafu regarding Lin's race, however, media outlets would be better off looking past the sudden star's ethnicity.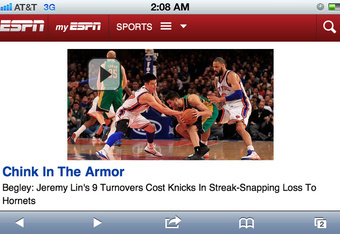 According to Sporting News, following the Knicks' surprising home loss to the New Orleans Hornets on Friday in which Lin committed nine turnovers, ESPN used a headline that read "Chink in the Armor" for its mobile content from 2:30 a.m. to 3:05 a.m. EST.
As most know, the headline contains a word offensive toward those of Asian descent. The headline, when read literally, could be interpreted as Lin finally playing like a human rather than a super hero, but it is incredibly hard to believe that whoever created the headline didn't realize the connection.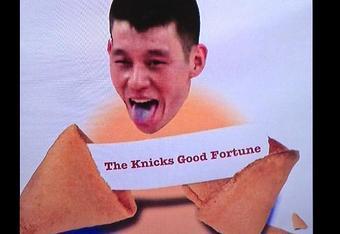 ESPN isn't the first media outlet to produce something offensive regarding Lin's race, and sadly it probably won't be the last either. FOX Sports columnist Jason Whitlock's tweet perpetuating a stereotype against Asian men is well documented, and MSG Network produced a distasteful graphic with Lin's head floating above a fortune cookie.
It's honestly unbelievable that people who have a responsibility to impartially and honorably report the news have such a lack of awareness regarding political correctness. Whitlock, the person at ESPN who made the headline and the person at MSG who made the graphic can think that those things are funny personally, but to make them public is idiotic.
There is no question that there is some novelty involved with the fact that Lin is an Asian-American playing in NBA. It's incredibly rare and we haven't seen much of it to this point, so it's perfectly understandable that people are drawn to and intrigued by his race.
At the same time, though, I'm sure Lin wants to be treated like every other player in the NBA. He has to be honored that he has developed into a role model and an inspiration for so many Asian-Americans across the country, so in that regard it makes sense for him to embrace his heritage. At the same time, he probably doesn't want to draw extra attention to himself because of his race.
Prestigious news outlets like ESPN would never, not in a million years, produce a headline that is prejudice against black or white players, so it's extremely strange that they thought it was okay to do so for an Asian player. It has to have something to do with the fact that Lin's success to this point is unprecedented for someone of his background, but that is certainly no excuse.
ESPN editor in chief Rob King apologized profusely on Twitter regarding the headline:
There's no defense for the indefensible. All we can offer are our apologies, sincere though incalculably inadequate.
Everything King said is true, and it's difficult to think of a way in which ESPN can make up for its transgressions in this situation. ESPN and others have tried to get cute with plays on words and graphics regarding Lin, but it has become quite apparent that it has become time to treat Lin like any other player.
There is nothing wrong with continuing to cover him heavily, especially if he continues to play fantastic basketball, but the media as a whole has proven that it can't responsibly handle talking about Lin's ethnicity.
It's sad that organizations that are supposedly the cream of the crop in terms of sports reporting can't figure out when they have crossed the line, but ESPN's senseless headline was the final straw.