The Big Question About Sachin Tendulkar
February 16, 2012

Morne de Klerk/Getty Images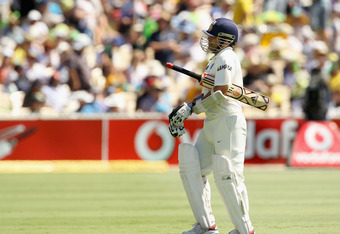 Hamish Blair/Getty Images
The thing that has been on top of the list for media in cricketing nations is—Sachin Tendulkar, his 100th 100 and his retirement.
This topic makes its way into many coffee-time chats, Facebook statuses and blogs. Earlier there were a few brave attempts to publish negative viewpoints of Sachin. Now with Tendulkar having a rather long "lean patch" the number of so-called braves has increased considerably. And as always the comments that follow have only three letters all over them—WAR.
There are few points raised and they are repeated all over.
1. Tendulkar is selfish.
2. Tendulkar plays only for his milestones.
3. Tendulkar was not as good as they portray him to be.
4. Tendulkar is not a match winner like Rahul Dravid and Laxman.
5. Tendulkar is coming in the way of youngsters. (He should retire and make way for youngsters.) 
You see only these points over and over and the same are countered by the fans. The war ends with either party being tired of repeating the same stuff.
The first three are subjective. The fourth can be argued upon based on what your perspective of what a match-winning knock is. The point always taken is that the batsman should perform when the team needs him.
And the counter question is: When does the team not need a player to perform? (Oh yes, everyone has the right to express their views and this is just another viewpoint)
The fifth point is a joke. Tendulkar should retire to make way for youngsters.
This, for God's sake is an India Cap. One should not be roped in just because he is young and is a promising player. He should be roped in only if he better than his predecessor. And he should be roped in the place of the worst player.
Two points to note here:
1) There are few players on the bench better than Tendulkar
2) And, for God's sake Tendulkar is not the worst player by any means.
The bottom line is: One has to earn an India cap and it cannot be bought by age.