Purdue Boilermaker Basketball: How Illinois Win Proves This Team Is Clicking
February 16, 2012

Jonathan Daniel/Getty Images
Purdue basketball fans were very disappointed this season, especially after a loss against Indiana that lacked effort.
This team isn't done though.
After Matt Painter benched seniors Lewis Jackson and Ryne Smith for the Ohio State game, a fire was lit. Play hard all of the time was once again prevalent with this team.
Although the Ohio State game didn't result in a victory, it provided a blueprint to what the Boilermakers needed to do the rest of the season, and so far they have accomplished that. 
With a 67-62 win over Illinois on the road Wednesday, Purdue is finally clicking as a team and discovering the role each individual plays within this unit. 
Robbie Hummel has started to take higher percentage shots. With D.J. Byrd and Ryne Smith on the outside as sharpshooters, he is able to kick out when he is covered and do a solid job on the post.  
Against Illinois, Hummel recorded 19 points, 11 rebounds and two assists as he led the Boilermakers to a road victory at Assembly Hall. Assembly Hall hasn't been an easy place to play this season with even the Ohio State Buckeyes falling there earlier this year. 
Hummel's 7-of-11 shooting performance, perfection from beyond the arc and ability to close out the game in the final minutes with clutch shots and free throws seemed to be what this squad was missing this season. 
Along with Hummel, Byrd has been a key to this team's recent success. Against Illinois, Byrd played great defense down low, had 13 points and shot 50 percent from beyond the arc—all of this following two 20-point performances that were surely in the back of his head.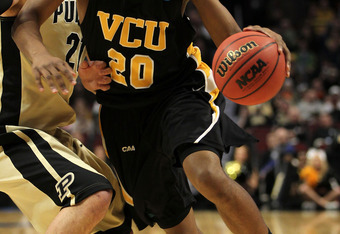 Jamie Squire/Getty Images
With both Kelsey Barlow and Lewis Jackson starting tonight, it gave the edge to Purdue defensively on the perimeter. 
Jackson also had a great first half offensively but dropped off in the second. He still was able to chart 13 points and three rebounds. 
Boilermaker fans have been waiting for this team to get it together, and it seems they finally have. They have finally managed back-to-back wins, and it's all feeding to what looks like a great finish.
With Michigan State up next at home on Sunday, the Boilermakers have a lot coming at them, but if they play like they did Wednesday night, they should be able to shut down Sparty. 
With this team finally coming together and playing great defense while taking care of the ball, it looks like the Boilermakers might not be done after all. 
Although the tournament is not a lock yet, with a few more solid wins, Purdue should be dancing in March.