NFL Draft: Do TCU Drug Busts Affect Dallas Cowboys Draft Board?
February 15, 2012

Otto Kitsinger III/Getty Images
The Wednesday arrest of four TCU football players likely comes as a huge surprise, although it probably shouldn't. You take a collapsing economic system and then combine that with an intentionally set up black market of merchandise, of any kind, and these things will happen.
Junior Horned Frogs Tanner Brock, Devin Johnson, D.J. Yendry and Tyler Horn were the four players arrested for selling narcotics ranging from cannabis to prescription drugs. Understanding that these four players are innocent until proven guilty, it's safe to say that each player's availability for the upcoming 2012 college football season, TCU's first in the Big 12, has been compromised.
With the TCU campus resting no more than 20 miles from Cowboys Stadium in nearby Arlington, one question among many concerning this disappointing story is how any of these players figured into the 2012 NFL Draft.
Luckily for the Cowboys, not one of these four players figured into the Dallas draft board come April. With all four being juniors looking forward to kicking off a new era for the TCU football program, only one had been rumored to be headed to the NFL following 2011 back in the summer.
With inside linebacker being an area of concern for Dallas from this point forward, Brock might have intrigued the Cowboys had he not suffered a season ending foot injury last September after having led the Horned Frogs in tackles in 2010. This would assume, of course, that Brock decided to forgo his senior season to go pro either way.
In fact, I had Brock going to the Cowboys, only based on his physique mind you, in my first 2012 NFL mock draft only a month ago. Factor in the injury and his arrest and there's obviously no point in even speculating further.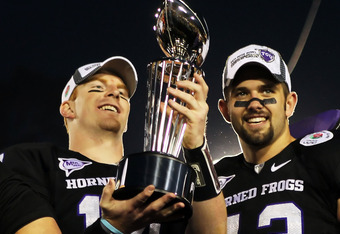 Jeff Gross/Getty Images
A name that hopefully is not affected by this scandal is Tank Carder, the senior linebacker who will be entering the 2012 NFL Draft. Carder is regarded as a top 10 linebacker prospect having helped TCU set itself up for Big 12 competition this fall and also contributing heavily in the Horned Frogs Rose Bowl win over Wisconsin following the 2010 season.
It goes without saying that the Cowboys, pending any further developments out of the investigation, do not lump Carder in with other offending players so long as he played no role in this issue. Nothing suggests that he is and Carder offers a gleaming example of why it's important not to allow guilt simply by association.
Clearly inside linebackers Brady James and Keith Brooking will not be a part of Dallas' plans in 2012. A player like Carder somewhere in the middle rounds might still be an impressive catch.