Peyton Manning: Fourth Procedure Unveiled as Deadline Approaches
February 15, 2012

A new twist has come to light in the Peyton Manning saga, one that makes Manning's issues with his neck seem even more dire than has already been reported.
According to Don Banks of SI.com, Manning has actually had four medical procedures done on his neck, not three. It is unknown exactly when this additional procedure took place, but Banks notes that it took place sometime between May 23rd and September 9th in 2011.
What It Means
It's bad enough that Banks' report ups the number of procedures Manning has had on his neck from three to four. It actually gets worse when Banks discusses what Manning's future may hold.
Banks has it on good authority that Manning may not be finished having procedures done on his neck:
In addition, league sources say Manning's neck has potentially developed bone spurs just above the point where his latest fusion surgery took place in early September, and the Colts organization is under the belief that it is nearly inevitable Manning will at some point require further surgery, and possibly another fusion procedure, even if he does successfully return to the field in 2012. 
All four of the procedures Manning has undergone have been on the right side of his neck. The team is concerned that his neck issues have already become a chronic problem and that there may be a "genetic aspect to his condition."
Most notably, Manning's older brother, Cooper, had to shut his football career down due to spinal stenosis. There's little evidence of stenosis in Manning's case, but Banks notes that "the likelihood of further complications increase with each new surgery he undergoes."
In other words, things have the potential to get even worse than they already are.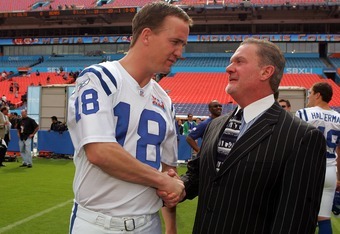 Scott Halleran/Getty Images
What Happens Next
This is all coming out less than a month before March 8th, the deadline for the Colts to pay Manning a $28 million option bonus or let him become an unrestricted free agent.
Moreover, this is all coming out just a day after Colts owner Jim Irsay told the Indianapolis Star that he wants to bring Manning back with a new contract that "reflects the uncertainty" of his healing process.
It's clear from Banks' report that Manning's healing process is even more uncertain than was already widely believed. If the Colts bring Manning back, whether at a discounted rate or not, they're going to be rolling the dice in a big way.