Iona Gaels Basketball: Talking with Coach Tim Cluess
February 15, 2012

Iona basketball coach Tim Cluess waited a long time for a shot at coaching in Division One, coaching 14 seasons high school at St. Mary's in Manhasset Long Island, and then five years at Suffolk Community College and C.W.Post.  He won 775 of his games over that nearly 20-year stretch.
Last year, his Iona Gaels were 25-12 and reached the finals of both the post season Metro Atlantic Athletic Conference tournament and the CollegeInsider.com event.
This year the Gaels have already won 20 games and have their sights set on winning the MAAC Tournament which starts in barely two weeks in Springfield, Mass., and the coveted NCAA Tournament bid which goes with that title.
Coach Cluess has a talented core of two seniors, power forward Mike Glover averaging 19 points per game and point guard Scott Machado coming off a "Triple double" performance Sunday night against Marist while continuing to lead the entire NCAA  in assists per game, currently just a shade under 10 per outing.
Joining this extraordinary pair is Lamont "Momo" Jones who was the point guard on last year's Elite Eight team but transferred close to home at Iona to be near his ailing grandmother and was granted an NCAA waiver to play right away.
Joining this big three has been a strong supporting cast of sharp shooting swing players Sean Armand and Kyle Smyth, big man Taaj Ridley, Mr. Consistent Randy Dezouvre who made the game-winning shot at Denver in December and Jermel Jenkins, a senior guard who can shoot the 3.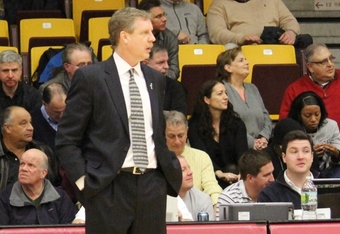 On Jan. 30, Iona announced that coach Cluess' contract has been extended through 2017 so he should be coaching the Gaels for years to come.
My colleague and morning host on WVOX Radio in New Rochelle, Bob Marrone and I talked with Tim Cluess about his perspective on coaching and the potential of this year's Iona team.
 Q,  Coach Cluess are you surprised at how well this team has responded this season?
A.  I am real excited about how quickly our guys have bought in and how hard they worked.  Really proud of the success they have had.  I always believe success is a reflection of how hard you have worked, so not entirely surprised.
Q.  How far do you believe this Iona team can go?
A.  We can go as far as our guards shoot the ball, so when we are having a good shooting night as a team, and Mike Glover on the inside is holding fort, we can beat anyone in the country, when we are not, we can lose to anyone in the country, so it is an interesting balance that we have.  
Q. You mentioned Mike Glover, he has been a very consistent player this year?
A. "Mike has been great because in all fairness last year we had Alejo Rodriquez playing alongside so Mike had help.  This year we have two guys (Taaj Ridley and Randy Dezouvre) a bit undersized playing in that spot alongside him.  Mike is really our big guy and he is only about 6-6 but you would think he is 6-9 because of how hard he plays and how hard he works."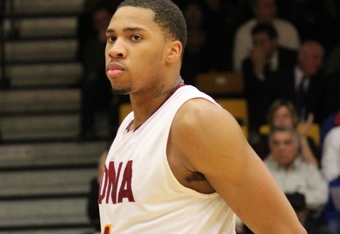 I really think he has turned up his game up an notch in his last several games. He has been working hard at getting more shot attempts, his rebounding has been up, his scoring has been up.  I think he is turning up his game at the right time for us.
 Q. How important is a system versus depending on pure talent.
 A. Well I think it really has to be a balance, the talent is going to have be great if you have a system you are not comfortable with.  Coaches are creatures of habit, so if they are coaching outside their comfort zone. it is hard for them to believe what is going on out on the court.  If the players can read that, so if the players see the coaches don't believe in it, they are not going to believe in it. 
Coaches need to get players that fit their system the tweak your talent but not have to completely change it, then it becomes difficult to have success.
Q.  Scott Machado had a "Triple-Double" performance Sunday night, can you tell us about his play this season?
A.  I'm really happy that Scott got his triple double, he has worked hard all year, and has come close on several occasions this year on assists and rebounds, but not necessarily on points on those occasions.   It has only happen once before in Iona history prior, and that was a long time ago, so it was great to see him accomplish that.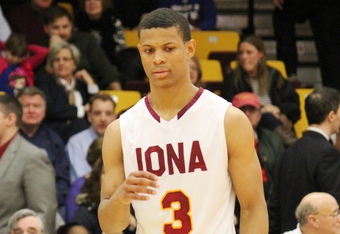 Q.  "Momo" Jones had 43 points against Canisius, how has he been able to improve his game?
A.   "Momo" Jones is an explosive scorer who is still feeling his way, but has been coming on strong the last 8-10 games, where he is getting more comfortable at his role.  At Arizona he was the point guard, he transferred over to us and we play him at the off guard which was an adjustment for him.  His talent level is at a very high level.  His leadership has been great.  Being a newcomer and still being a leader has been a great addition to our team.
Q. You have had your guards working on rebounding?
A.  We had a loss prior, at Loyola, were we really got killed off the boards, so we have asked our guards to do a better job rebounding the ball for us and they did in the game versus Marist.
Q.  You have had great performances from Kyle Smyth and Sean Armand at the small forward position, can you tell us about them?
A.  Kyle Smyth and Sean Armand, those two guys have been great weapons for us shooting the ball.  When we get one or more of them shooting ball, that really gives us another option out on the court and makes us tough to guard.
Kyle Smyth defensively is a scrappy kid that anyone would like to coach.  He gets on all the loose balls and does all the little things.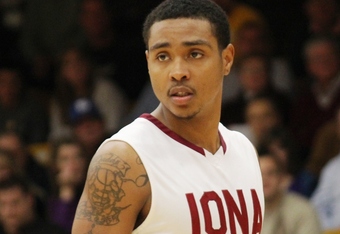 Q.  At the four position how has Taaj Ridley been developing?
A.   Taaj Ridley is a new forward who is starting for us this year, who is really a wing player, that we have had to move to the forward spot because of overall lack of size.  Again it is an adjustment for him, he is not used to playing with his back to the basket or guarding a post player, so he is trying to learn that and he has done a great job putting in extra time.  I have seen progression in that area over the second half of the season.
Q.  How has Randy Dezouvre added spark at the four position, he had the game winning shot at Denver?
A.  Randy Dezouvre is a local Monroe College junior college player who is in his second year with us.  Randy is starting to bring energy and leadership to the court.  He is an undersized 3/4 player but plays with more energy then the rest of the team most of the time and gives us a shot of adrenaline.
Ken Kraetzer covers Iona basketball and West Point football for WVOX 1460 AM in New Rochelle, NY, heard nationally on WVOX.com.  Bob Marrone is the morning drive time host on WVOX.    Ken's Twitter address in @SAL50NYRadio