Braxton Miller: 2012 Big Ten Quarterback of the Year
February 15, 2012

Kirk Irwin/Getty Images
There is no question the arrival of Urban Meyer to The Ohio State University has turned the recruiting appeal status around for the Buckeyes. He has already successfully plucked prime recruiting prospects from the likes of other Big Ten schools. He brings with him the highly potent spread offense.
Of course, the Buckeyes were already running a version of this offense but would often hunker down into a pro-style run formation due to lack of production from their passing game. Meyer understands however, why this was not effective and has already begun making the necessary changes that will help Braxton Miller be known just as much for his arm as he is with his legs...well almost.
Last year, Miller dazzled his fans with his extension of broken pass plays by juking, dodging, and jumping over defenders. However, these plays usually ended up either with a sack, short yardage gains, or throwing the ball out of bounds.
When a quarterback has the ability to extend plays, this gives his receivers the ability to get open. It is extremely difficult for a defender to keep close coverage on a receiver after the original route, without committing pass interference that is.
So why then, with the frequency that Miller extended broken plays did he not lead an air assault against his foes?
The answer lies within the Buckeyes' young receiving corps who battled injuries, suspensions, and the oldest of which was only a sophomore. Verlon Reed tore his ACL early on and was out for the year and Corey "Philly" Brown missed four games due to suspension and a lingering ankle injury. Their backups were also underclassmen in Evan Spencer, a freshman, and Chris Fields, a sophomore. Freshman Devin Smith was also inserted into the lineup due to injuries. Braxton Miller's main targets were all in their first year in a starting role. Not an ideal situation.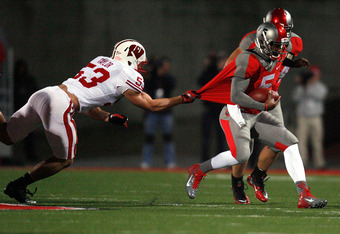 Kirk Irwin/Getty Images
Devin Smith and Corey Brown were tied for the team lead among wide outs with only 14 catches each. To put this in perspective, the run-oriented Wisconsin Badgers had both of their starting wide outs over the 50 mark in receptions.
The Buckeye receivers as a whole only had three members with double digit receptions. Senior DeVier Posey was one of those members and he amassed his 12 receptions only playing the last three games. This senior leadership was obviously missed last year and TE Jake Stoneburner will need to step into that role next season as the receivers will still be without a senior.
With healthy more experienced receivers in 2012, Miller's passing numbers will inevitably go up. Braxton also gained almost a year's experience as a starter and had that time to gel with his offense. The other young wide outs should also feel more comfortable in the new receiver friendly offense. Even Coach Meyer knows the receiving corps was the problem for Braxton's down passing numbers and he is bringing in reinforcements. In ESPN's top 10 recruiting classes, only Miami (FL) has looked at more receivers than the Buckeyes.
The little bit older and wiser Braxton Miller will not be labeled the one dimensional threat that he was last year. He will not be picking apart defenses like a member of the Manning family but thanks to the new offensive scheme and a more experienced and healthy group of receivers, he will be able to stretch the field enough to open it up for his running game to really kill.
Improved quarterback play by the Buckeyes will lead them to a 10 victory season and the Big Ten's leading rusher at the QB position.