St. Louis Rams: Rams Reportedly Hire Chuck Cecil to Coach Defensive Backs
February 14, 2012

According to John Glennon of The Tennessean, the Rams have hired former Tennessee Titans defensive coordinator as defensive backs coach in St. Louis.  In his tweet, Glennon writes that: 
@glennonsportsJohn Glennon Jeff Fisher has hired former #Titans D Coord. Chuck Cecil as Rams' new DB coach.
It is important to note that the Rams have not confirmed the hiring of Cecil, however. 
Cecil coached for ten years in Tennessee (2001-2010) under former Titans and new Rams head coach Jeff Fisher. Cecil served as the Titans defensive coordinator (2009-2010) after coaching the secondary there (2007-2008). His entire Titans' coaching resume is as follows, from titansonline.com:
2009-10: Defensive Coordinator, Tennessee Titans
2007-08: Secondary, Tennessee Titans
2004-06: Safeties and Nickel Backs, Tennessee Titans
2001-03: Defensive Assistant/Quality Control, Tennessee Titans
As secondary coach, the Titans defensive backs excelled. 
In 2007, the Tennessee secondary produced 14 interceptions and the defense as a whole picked off 22 passes, ranking second in the NFL. Then rookie safety Michael Griffin and second-year cornerback Cortland Finnegan progressed nicely that year under Cecil. 
In 2008, Cecil oversaw one of the best, if not the best, secondaries in the NFL, as three of four starters (Cortand Finnegan, Chris Hope, Michael Griffin) earned their first Pro Bowl berths. It was the first time in franchise history that three players from the secondary represented the team in the Pro Bowl. The defensive backfield gathered 19 interceptions, which ranked second in the NFL by a secondary.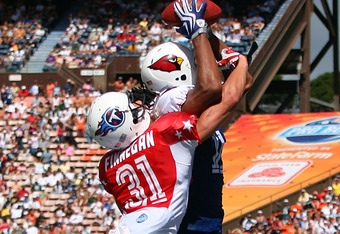 Paul Spinelli/Getty Images
As a player, Cecil was renowned as a hard-nosed, hard-hitting safety in a career that spanned from 1988 through 1995. Cecil played for the Green Bay Packers (1988-1992) and the then Phoenix Cardinals (1993-1995). Cecil was named by Pro Football Weekly to the 1992 NFC All Conference Team in 1992 and made the Pro Bowl following that season.
Cecil (like the previously mentioned fellow former defensive back Fisher) brings the same type of  fire, intensity and toughness to his coaching career as he did to his playing career. 
Cecil was so intense during a 2010 game against the Denver Broncos that he apparently flipped off the officials after apparently being displeased with their performance.
For the Rams, adding a defensive backs coach with two years of previous experience as a defensive coordinator under Fisher looks to be an exceptional hire. Cecil is obviously well versed in Fisher's coaching style and knows exactly what Fisher will expect from him and the defensive backs. 
Shane Gray covers the St. Louis Rams year-round. You are encouraged to check out the rest of his work here and to follow him on Twitter.