TNA: How Impact Wrestling Has Finally Reached Its Climax
February 13, 2012

In recent years, TNA Wrestling has always been looked down upon by numerous wrestling fans (myself included) for its horrendous booking, older talent and failure to live up to their promised "Wrestling Matters" slogan.
While it may be the second major pro wrestling company in the United States, it has not and never will live up to the global empire that is WWE.
No matter what TNA President Dixie Carter thinks or how many times Hulk Hogan says it on-air, TNA Wrestling will likely never be on the same level as the WWE. They just don't have the proper media exposure for their organization in order to compete with Vince McMahon, despite acquiring camera darlings such as Hogan and Ric Flair.
With that being said, I've come to realize that Impact Wrestling isn't as truly terrible as most members of the IWC make it out to be. Of course, it has its obvious flaws, but they've progressed so much in the last four months that I'm once again not only entertained, but hopeful of their product.
Last November, we witnessed the foreshadowing of the future with the rise of numerous stars on the roster.
From Bobby Roode capturing his first TNA World Heavyweight Championship to Gail Kim making her long-awaited return to the company and win the Knockouts Championship, the seeds had been planted for some rare long-term booking that still exists today.
At this time last year, established veterans such as Jeff Jarrett, Kurt Angle, Mr. Anderson, Rob Van Dam and Sting were all still hogging the spotlight, but hardly competed in the squared circle a year later.
If you told me last year that tag team specialists such as Bully Ray, Bobby Roode and James Storm were going to be fighting over the golden prize, I would thought you were completely delusional.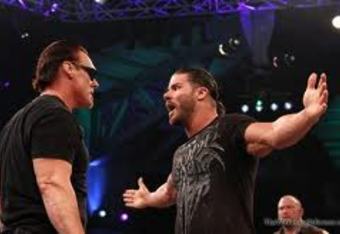 For the past two months, TNA has consistently delivered enjoyable editions of Impact Wrestling, especially their most recent tour of England.
While it may not show in the ratings, my interest in TNA television has gradually increased over the course of the last few months.
Last night, I had my hopes up high for an enjoyable Against All Odds pay-per-view, and sure enough, the show lived up to my standards. For the first time in years, I felt as if the three hours I spent watching a TNA pay-per-view were actually worth it.
In a shocking turn of events, only two of the matches on the card ended in controversy, with neither finish being that overbooked either. Ironically enough, a heel went over in every bout on the card (with the exception of the sympathetic tweener Kazarian), which is probably why I found it so amusing.
The only real unfortunate incident coming out of the show was the legitimate injury sustained by Jesse Sorensen in the opening contest, who was rushed to the nearest medical facility to receive further examination. Other than that, everything else seemed to fall directly into place.
Knockouts champions Gail Kim and Tara contested a great match that surprisingly didn't end in interference from Madison Rayne, while X-Division Austin Aries defeated challenger Alex Shelley to retain his title in what was the best bout on the card.
Later in the night, Samoa Joe and Magnus were finally able to put an end to the unfavorable team of Matt Morgan and Crimson to win the TNA World Tag Team Championship. In an extremely personal confrontation between best friends Kazarian and AJ Styles, Kaz was able to upset his former Fortune stable mate following capitalizing on a fallen Christopher Daniels.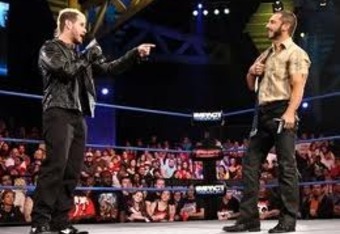 During the final hour, Gunner was able to put away Garrett Bischoff despite the odds stacked against him with Hulk Hogan looming at ringside. To conclude the show, Bobby Roode successfully defended his TNA World Heavyweight Championship after Sting accidentally knocked Jeff Hardy unconscious.
All in all, this year's installment of Against All Odds was a major step forward towards rebuilding their top stars, while also finally making good on their promise that wrestling does indeed matter.
One can only hope that TNA can keep on the fast track to greatness from here, as they hold amazing potential that can't be denied.
Now, I'm not saying they should move back to Monday nights or anything along those lines to once again rival with WWE, but I believe they are significantly improving as time progresses.
Personally, I find their current product the most entertaining it's been in years, so fingers crossed this is only the beginning.
Thanks for reading, Bleachers, and make sure to drop a comment below with your thoughts on last night's Against All Odds pay-per-view and what the future might hold for TNA Wrestling. As always, your criticism and overall feedback is greatly appreciated.
GSM out.
Visit my website at Next Era Wrestling as well as my WrestleRant and Spoilers podcasts for more of my thoughts and writings, along with WWE/TNA news, rumors, reviews and more.
Listen to internet radio with Spoilerspodcast on Blog Talk Radio.