Reggie Bush and Kim Kardashian: How Potential Reunion Will Propel Both Stars
February 13, 2012

Chris Graythen/Getty Images
Let's play a little game I like to call "Expounding Upon Internet Rumors!"
In this edition of everyone's favorite Internet game, we'll find out how we can turn a lunch date between exes into a full-feature movie, Keeping Up with the Kardashians...At the Super Bowl! and end habitation in North America as we know it.
Today's rumor from TMZ revolves around a potential reunion between Reggie Bush and Kim Kardashian after the two were spotted having lunch together. Let's take a look:
"Multiple sources tell us ... the two were smiling and laughing during the lunch date ... and played it cool when fans approached them for pictures and autographs.

We're told it seemed just like old times ... before Kim went off and married/divorced that other guy whose name we can't remember.

Sources say the two have been spending A LOT of time together in the past few days ... but it's unclear if it's a full-on reconciliation."
So, they were having lunch, seemed to be enjoying each other's company and according to "sources," have been hanging out in the past few days.
Holy crap, when's the wedding? Can you imagine what a reunion between these two could set into motion?
Kardashian, eager to find a new way to enter the spotlight, will tell Reggie she and the family have been brainstorming how they might make their next big splash—the wedding was fun and all, but no one will fall for Kim marrying for love a second time—and they've had the Super Bowl in mind.
"Wait," Reggie will say. "You want to shoot a Kardashian episode from the Super Bowl?"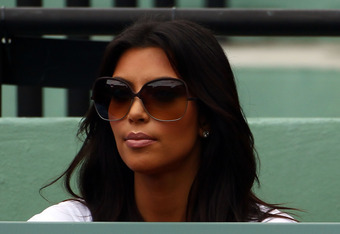 Michael Heiman/Getty Images
"Exactly," Kim will reply. And then she'll stand up, do a quick turn, look away from Reggie, peek her face over her right shoulder and ask, "Do you think I look good in these new jeans? They seem a little tight."
And he'll just nod and mumble something about how she looks lovely in those jeans.
"But a Kardashian episode at the Super Bowl won't make sense unless I'm dating a football player that reaches the game," she'll continue. "Oh, and I miss you and all that good stuff, Reggie."
So Reggie, hypnotized by the jeans, will go on an epic recruiting trail for Peyton Manning, a stud wide receiver in free agency such as Vincent Jackson and perhaps even Mario Williams, hoping to propel the Dolphins to the Super Bowl.
He'll carry a picture of the Kardashian wearing her new jeans on his phone to hypnotize the above players as he pitches Miami as a destination.
New weapons intact—and with the power of the jeans behind them—the Dolphins will make a surprising push to the Super Bowl, and Reggie's return to Keeping Up with the Kardashians will prove a ratings boom for the show.
A money-grubbing studio executive will find out about the plans to shoot a Kardashian Super Bowl episode and a neon sign will start flashing in his head, causing him to green light a full-length feature movie of the Kardashians at the Super Bowl.
Critics will describe the impending movie as "a likely romp," the irony of which will be totally lost on most eager to see the film. 
Upon its release in theaters, a scientist enraged with Western society will fire off a laser toward the moon. He obviously built the laser in case a Kardashian movie was ever released, and the beam will detach a huge chunk of moon rock the size of Texas.
He may need a tractor beam to then propel that moon rock toward Earth, I'm not sure how his plan will work. He's the scientist, not me.
The moon rock will strike Los Angeles and the resulting dust cloud that settles over North America will render the continent uninhabitable.
The end.
Okay, okay, so that's probably not going to happen. What will likely happen is that any rumors or reunion between the two would again boost ratings for the show and keep Kardashian relevant to a huge demographic with otherwise limited interest in her—male sports fans aged 12 to 35.
And Bush will build on his breakthrough season in 2011 and prove that he can handle the load as a primary running back.
Be honest—the end of life on North America as we know it was a way more entertaining scenario.
Hit me up on Twitter—I'm #Linning.