FYI WIRZ: NASCAR's Sprint Media Tour Upbeat but NASCAR Needs 2011 in 2012
February 13, 2012

Hard to script a better NASCAR Sprint Cup competitive season than one where the championship goes to the last lap and the winner takes all or goes home second. Tony Stewart prevailed and Carl Edwards was left wondering—if only, two more points.
So NASCAR might want to see a repeat of 2011 in 2012 with maybe different top contenders vying for the trophy.
Sometimes it's not what is said or done that makes for interesting speculation. NASCAR did not announce sweeping changes as it has in previous years on the NASCAR Sprint Cup Media Tour presented by Charlotte Motor Speedway this January.
Absent were declarations like boys-have-at-it or tweaking of the points system by altering the two final positions for season winners or reducing the number of points available at any given race to a total of 48. All that happened in 2011.
The incredibly competitive and exciting 2011 might be proof that past rules changes were adequate. Maybe it's time to not mess with success.
For 230 fortunate members of the worldwide media attending the Sprint Media Tour, announcements and professional energy were hurled their way in a whirlwind four-day agenda. In the end, much had transpired.
But above all the optimism or plans comes the real season with achievements and disappointments.
This is the third and final part in a series highlighting the Sprint Cup Media Tour, but all mentions in each part will be followed up by analysis after the season finale, November 18, 2012 in Homestead, Florida. At that time I will compare whether what happened on the tour influenced the outcome of the 2012 season.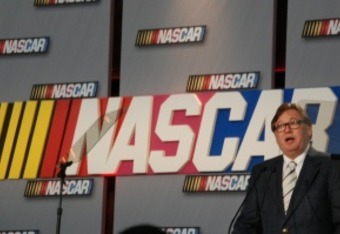 The saga of Kurt Busch's lost ride at Penske continued with his found ride with a single car team for 2012. He'll be driving the No. 51 Phoenix Racing Chevrolet
"Expectations for us are one weekend at a time," said Busch. "It will be little victories for us that we take in. Whether it's finishing 15th, but putting the car back in the hauler without a scratch on it."
He continued, "It's about racing smart and old school racing. It's like when I raced my dad's Legend Car. If I wrecked it one weekend, I couldn't race the next. It's a balance of understanding how to get the best out of the car and protect it."
At Richard Childress Racing, the news was determination and pregnancy.
"I'm not here to extend my career," said Burton. "I'm here to win a championship."
Kevin Harvick, aka "Happy," had reason to be happy.
Harvick will again pilot the No. 29 Chevrolet, but with new crew chief Shane Wilson. He also announced that wife DeLana was 14 weeks pregnant with their first child. Kevin Harvick attributed the closing of his and DeLana's race team, Kevin Harvick Inc., to their desire to start a family.
"The plan to close KHI makes a lot more sense now, doesn't it," said Kevin Harvick.
Walmart decided to get into NASCAR with the sponsorship of the No. 50 Sprint Cup car at the Daytona race on July 7 with Bill Elliott behind the wheel. Walmart will offer an attractive $99.00 Family Track Pack (tickets for four) at select races, and Elliott will make appearances at Walmart stores leading up to race day.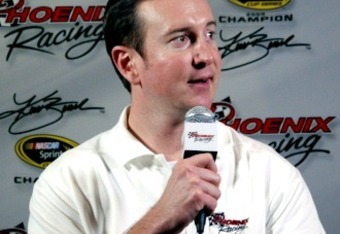 "You just don't know how excited I am to be a part of this," said Elliott, a winner of 44 NASCAR Sprint Cup events during his long career. "This deal started coming together in the last couple days. It is just incredible to be part of Walmart coming into this sport."
Of the many personnel changes during the offseason, perhaps none has more energy than A. J. Allmendinger's move to Penske Racing.
"It has been an amazing ride to get to this point. I've worked hard for five years and went through a lot of ups and downs to get to this point," Allmendinger said. "Right now, this is my time to have a chance at it.
"My goal is to go out there and try to win races, make the Chase and contend for the championship. Anything less than that would be really disappointing," Allmendinger added.
At the NASCAR Hall of Fame, announcements weren't as dramatic as in recent years, but some will still have impact.
NASCAR drivers won't be fined secretly—or fined at all—for speaking out when angered, but detrimental comments won't be tolerated either. That's really the formula for almost all major sports—it's okay to disagree, but don't hurt the popularity with damaging remarks.
Most NASCAR fans do not like tandem racing at Daytona and Talladega, and NASCAR seems to have a fix in mind for that. Robin Pemberton, NASCAR vice president for competition, spoke about changes.
"We do believe that we've come up with a rules package that will help tandem-style drafting be the exception rather than the norm," said Pemberton.
He was also very excited about the 2013 race cars. All four manufacturers were pleased with their new production models that match race car design.
"I think the fans are going to love them," said Pemberton. "It's going to be such a positive step in helping our race cars be more and more relevant to our fans, past, present and future.
Lastly, driver-to-driver radio communication will cease, although team-to-team communication will continue as it has in the past.
All points mentioned in this three-part series will be the subject of postseason analysis in December 2012.
FYI WIRZ is the select presentation of motorsports topics by Dwight Drum at Racetake.com. Unless otherwise noted, all quotes were obtained from personal interviews or official release materials provided by sanctions, teams or track representatives. Photo credit: Dwight Drum at Racetake.com.