Iona Basketball: Scott Machado's Triple-Double Leads Iona to 20th Win
February 13, 2012

Scott Machado gets Iona (20-6) back on track with their 20th win of the year partly due to his triple-double to lead the Iona Gaels to a 83-74 win over Marist (9-16) on their home court in New Rochelle Sunday night. 
The win coupled with Loyola's 68-51 loss to Fairfield Sunday afternoon puts the Gaels back in a first place tie in the Metro Atlantic Athletic Conference Tournament.
Machado recorded 11 rebounds, 10 points and 10 assists for Iona's first triple-double since Nakiea Miller on March 5, 200 against Fairfield in the MAAC tournament. Afterwards the Iona senior from Queens, NY who has lead the entire NCAA Division One in assists per game all year said,
"It feels amazing, it is an accomplishment that I always wanted to get.  I am just thankful I was able to get it tonight, and I was able to get it before my career was over here, so just thankful and blessed."
The Gaels were coming off a disappointing loss Friday night in Baltimore at Loyola, In which they were forced to make a strong second half comeback to lose by only 87-81. 
Mike Glover had a huge night himself Sunday with 25 points with 11-19 shooting and ten rebounds. He commented afterwards,
"We just wanted to bounce back from Friday's loss at Loyola.  We did a pretty good job defensively in the second half, I am just proud of our guy's effort tonight."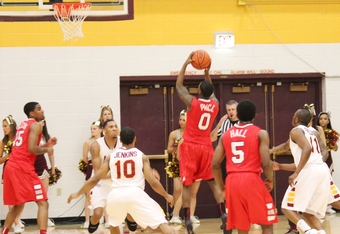 Lamont "Momo" Jones had had a hot shooting hand with 23 points making five of six on threes.
The 7 PM Sunday start was unusual, but gave the Gaels a bit more rest and time to regroup after returning from the loss in Baltimore Friday night.
Iona coach Tim Cluess put Sean Armand, who scored 25 Friday night at Loyola along with Taaj Ridley, back in the starting lineup. Both responded early with Ridley hitting two shots and Armand landing a three.
Iona is hot tonight running out to a 23-9 lead on a couple of three-point shots by Sean Armand, and the inside play of Mike Glover. Marist has a big center 6' 10" sophomore Adam Kemp who is trying to guard Glover with forward Jay Bowie cheating over to try to double cover. But Glover has great hands and seldom misses his inside shots, hitting over 65% from the floor.
Marist got back in the game 30-2 with a 12-0 run punctuated by a fast break drive by Manny Thomas drawing a foul on Machado followed by a Devin Price three-pointer. 
Marist pulls ahead in the second half 46-44 on a Chavaughn Lewis jumper. What a difference in coach Chuck Martin's team from the one Iona defeated 100-76 in January in Poughkeepsie.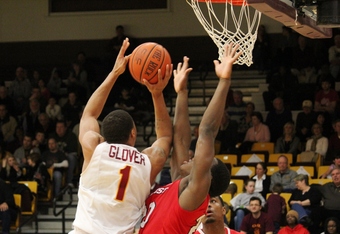 With Marist taking a 54-51 lead, the Gaels start to go back inside with a Momo pull up jumper followed by a Scott Machado to pass play to Randy Dezouvre for a layup. Dezouvre the senior forward who has competed with Taaj Ridley for playing, is another Gael with good hands, making up on quickness with a dependable inside game. 
Mike Glover continues to be an inside force for the Gaels.  After Momo Jones misses a spinning pull up jumper between two defenders, Glover grabs the rebound and putts it back to give the Gaels a 64-57 lead.
Kyle Smyth and Sean Armand then hit threes to give Iona a 79-69 lead as Iona pulled away in the final minutes.
If there was a doubt in this game, Scott Machado took over with an inside drive to basket to give Iona an 81-69 lead with 2:32 left.
Iona Coach Tim Cluess said afterwards,
"I did not know how much they had in the tank, that was a very late and emotional game (Friday night), we got back really late and we had practiced yesterday. Parts of the game we played well in parts it looked like we did not have much left in us, but down the end, our guys gutted it out, and had a nice victory against a team that played with a lot of energy and and a lot of heart."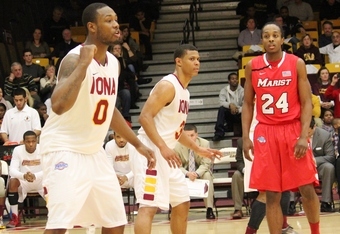 When asked about a new zone the Gaels played in which he drops back in the zone, if that helped him reach double digits in rebounds, Machado said,
"We just started that zone, since it was so new, of the people who start, I am the one who knows that spot, that's all really."
About the loss by Loyola in the afternoon that gave Iona a chance to play for first place, Lamont "Momo" Jones said,
"It was a relief to me, and a relief to our team. We just have to come out and play our game. Whether or not they won or lost, we had to come out and get this win. Fortunately they lost, so its puts us in a better position. We just have to come out and play every night".
The Gaels now prepare to play at Rider Wednesday night before taking on University of Nevada at home in the "Sears Bracketbuster" game on Saturday at 4PM.
 Ken Kraetzer covers Iona basketball and West Point football for WVOX 1460 AM and Sons of the American Legion Radio. 
His Twitter address is @SAL50NYRADIO