New England Fight Night I: MMA Action from Lewiston, Maine
February 12, 2012

On Saturday, February 11, the historic Colisee in Lewiston, Maine was the spot for an exciting professional and amateur mixed martial arts card as Nick Disalvo Promotions hosted a show in the same location as the notorious Ali-Liston II "Phantom Punch" fight from 1965.
The card featured a strong mix of local Maine talent matched with highly regarded regional prospects. Team Bombsquad of Ithaca, New York, one of the northeast's top professional camps, provided three amateur fighters and four pros, garnering a 5-2 record for the road trip. 
The amateur fights featured strong wrestling by Bombsquad members Shane Manley (unanimous decision) and Dez Green (TKO 2, by ground and pound) and by Ray Wood of Young's MMA, who came back from an early takedown to win by first-round TKO. 
In professional action, lightweight Anthony Woodman (TKO, strikes) and bantamweight Adam Toussaint (rear naked choke) of Team Havoc came away winners. Jamie Hanson of First Coast Full Contact won on TKO by strikes in a welterweight bout. 
Bellator Fighting Championship veteran and Team Bombsquad member Brian Kelleher won by rear naked choke at featherweight. Popular local fighter Ryan Sanders of Young's MMA weathered an aggressive ground-and-pound attack by Dan Keefe to pull off a first-round arm bar submission at welterweight.
In a catchweight clash of WEC veterans, Paul Gorman of the Academy and Anthony Leonne of Bombsquad fought a spirited first round, exchanging flurries on their feet and dominant positions on the ground, with Leonne suffering a possible broken nose for his troubles.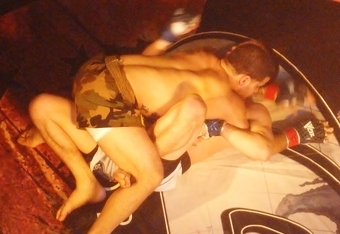 Leonne came out in the second round looking aggressively for the takedown. His doggedness paid off, as he brought Gorman to the mat and took his back. Gorman defended the rear naked choke, but Leonne hit a slick transition into a very deep, tight arm bar that forced Gorman to tap.
The UFC's recent announcement of the addition of a flyweight division made the 125-pound matchup between Ernesto Ornelas (Choi's/MMAthletix) and Evan Velez (Bombsquad) was particularly interesting. Ornelas showed a great deal of poise and skill in the striking department but was simply over-matched when the fight hit the floor, succumbing to a rear naked choke at 3:45 of the first.
Velez, a talented athlete with a strong amateur wrestling background, has so far struggled to get enough fights in his young career but should see more opportunities open up for him, now that the UFC has decided to add flyweight to their roster.
"It changes everything, even for smaller shows," Bombsquad head trainer Ryan Ciotoli told me during Friday's weigh-in.  
Velez was optimistic about his future after the card. "The flyweight division in UFC and legalizing MMA in New York, those are the two things I've been excited for," said the Bronx native, referring to his home state's current ban on mixed martial arts. "Now we got the first one, we've got to get the other this year."