Arizona Cardinals: Why Kevin Kolb Being Replaced Would Be Horribly Premature
February 13, 2012

Christian Petersen/Getty Images
The Arizona Cardinals will make dozens of roster moves this offseason. The most anticipated move will be which quarterback is under center and who ends up holding the clipboard. Barring a successful Man-hunt for Peyton Manning, head coach Ken Whisenhunt will be left to decide between quarterbacks Kevin Kolb and John Skelton. 
Many—including myself—have called for Kolb's exodus out of the desert. Perhaps we have jumped the gun. After all, Kolb hasn't had the best of circumstances since suiting up in a Cardinals jersey.
The NFL lockout was the scapegoat for any flailing player this past season—Kolb was no exception. He was forced to learn a new system without any semblance of an offseason. But with 10 quarterbacks throwing for more than 4,000 yards this season, including three tossing the rock for more than 5,000 yards, the lockout is no excuse for poor performance.
But Kolb was afflicted with debilitating injuries during the 2011 season that literally didn't allow him to get his feet set at the position. Kolb suffered through slightly torn ligaments in his toe, a nasty bone bruise in his foot, turf toe and a concussion. 
He's almost had as many injuries as games played. 
And let's not forget he was operating behind one of the league's worst offensive lines, which can only improve in 2012.
After signing his contract for $65 million, Kolb started the first eight games of the season. During that span, he underwhelmed with an 8:8 touchdown-to-interception ratio. In his defense, however, Kolb faced a tough group of teams the first eight weeks of the season, including a near-win against the Super Bowl Champs New York Giants.
So the question remains: Is it too early to call for Kolb to be replaced?
You don't have to look any further than the Cardinals' history to know that we should hold off on the Kolb witch hunt. 

Remembering Kurt Warner's Journey
Kurt Warner is the only Cardinals quarterback to take the franchise to a Super Bowl. But he almost didn't get the chance. With a little luck and the coaches exercising some patience with Warner, he came within two of Santonio Holmes toes from hoisting the Lombardi Trophy. 
After being replaced by Marc Bulger in 2003 with the St. Louis Rams, and being ousted by then-rookie Eli Manning in 2004 with the New York Giants, Warner landed in Arizona.
In 2005, Warner played poorly enough that the Cardinals expended their first-round draft pick on quarterback Matt Leinart. With Leinart nipping at his heels, Warner started the 2006 season and did a complete face-plant.
Warner lasted the first four games of the 2006 season, and his performance got worse with each snap. His passer rating from Week 1 to Week 4 was 114.8, 77.9, 69.0 and 53.8, respectively. Warner's dismal play opened the door for Leinart to take control of the offense.
Despite Leinart's own poor performance—only throwing 11 touchdowns but 12 interceptions with a 74.0 passer rating—the Cardinals didn't look back to Warner until Leinart went down with a shoulder injury in Week 16.  
Following the 2006 season, Leinart was named the starter with many speculating about Warner's release, much like Kolb's release presently. ESPN's Len Pasquarelli described Warner as having a "modicum of security by signing a three-year" deal after the 2006 season.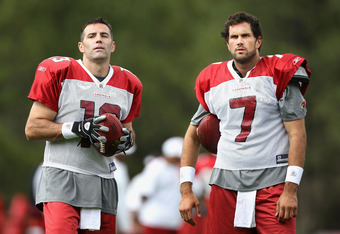 Christian Petersen/Getty Images
Warner's security blanket got a bit warmer after Leinart broke his collar bone in Week 5 of the 2007 season. Warner was inserted in as the starting quarterback, while Leinart was placed on injured reserve.
Warner maximized his value with his final 11 starts in 2007. He completed 281-of-451 attempts (62.3 percent) for 3,417 yards, 27 touchdowns, 17 interceptions and passer rating of 89.8.
In 2008, the Cardinals made a run at a Super Bowl title and had it within their grasp with 2:47 remaining after Warner tossed a 64-yard touchdown pass to Larry Fitzgerald. Had the Cardinals not exercised patience with Warner's up-and-down play over the years, Arizona may not have made it to Super Bowl XLIII.
After all, going into the Super Bowl season, the Cardinals didn't name Warner the starter until Leinart tossed three picks in the third preseason game in a matter of minutes. Arizona's patience with Warner obviously paid off.
Kolb may have a shorter leash than Warner enjoyed because Kolb's $65 million contract costs the organization several more millions than Warner did. Warner's deal was $15 million over three years. But it still may pay off for the Cardinals to see exactly what they acquired from the Eagles. 

Kolb Deserves Patience
Patience is a virtue. But in the NFL, rarely do you see it exercised. Players can go from hero to zero and then back again in a matter of weeks.
Remember when Giants head coach Tom Coughlin was on the hot seat mid-season? The Giants started the season 6-2, lost five of six games and came this close to missing the postseason. Now headlines are mentioning Coughlin as a Hall of Famer.  
But will Kolb lead the Cardinals to a Super Bowl like Warner? It's doubtful, but possible. The Cardinals waded through three season with Warner, keeping him around to see what they had in the quarterback and their patience paid off. 
Surely, the Arizona organization can go once more into the fray with Kolb. Warner had three seasons to prove his worth—Kolb has had eight games to prove his. Kolb's performance has been mediocre during that time, but then again, so was Warner's for a couple of seasons. And we all know what Warner was able to do with his opportunities.
Maybe now is the time to give Kolb those Warner-like opportunities.