LeBron James Heckler Bob Moore: You're Ruining It for Everybody
February 12, 2012

Mike Ehrmann/Getty Images
Bob,
I feel free to address you on a first-name basis because I'm about to level with you here... Consider this an open letter to yourself as well as anyone with your tragic lack of propriety. I know you're not the only one, but you made yourself an easy target.
You're an embarrassment, and I mean that in a caring way—I wish you nothing but the gifts of class and maturity. You're a disgrace to NBA fans in general, but more specifically to people who are not fans of LeBron James.
You think your angst at the guy (bandwagon, anyone?) warrants taking potshots at a person's family because apparently you believe there is some kind of impenetrable fourth wall that exists between the court and the stands.
Obviously, you are wrong. You deserved every word you got back from you-know-who...but that's not why I'm writing this.
As a very avid critic of LeBron, I feel like you've done me personally—as well as anyone who feels genuinely alienated by his attitude and tries to express it rationally—a massive disservice by making us look horrible by association.
I have my reasons to want to get on LeBron's case, and I do my best to break them down for whoever cares to listen.
Among other things, I think he's more interested in getting an NBA title than going out out and fighting for one, and I also believe he laughs in the face of pretty much anyone who isn't him. This rubs me the wrong way (always will), and I take offense.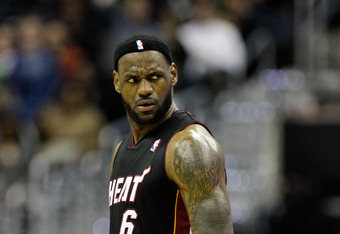 Rob Carr/Getty Images
If I was on the sidelines trying to zing LeBron, I'd try to come up with some kind of witty jab at something basketball-related. In my opinion, heckling is indeed a fan's right, but this principle assumes that fan is educated enough to know exactly how far is too far.
Evidently, that would exclude you. It may surprise you to learn that a man's mother is not fair game...let alone her romantic life.
In the process of your little in-game episode, you reinforced the notion that LeBron's critics are all classless cheap-shot artists without the capacity to express ourselves intelligently.
Every time I try and write a nuanced, thought-provoking article on what I see wrong with either LeBron or Miami, I mostly get treated to knee-jerk comments of how this is just more pointless mudslinging, as well as the knowledge that my arguments and reasoning are obviously being skimmed over.
This is because among LeBron critics, people like you far outnumber people like me. For every person trying to encourage dialogue—or even *gasp* make a new point—with a con piece, there are hundreds littering message boards and social media with crude comments and idiotic reasoning.
It's no wonder people can't tell an intelligent Heat hater when they see one...their experience has convinced them we don't exist.
I could type my fingers to the bone trying to share my numerous, heartfelt reasons for reacting badly to the guy, hoping someone would disagree with an actual rebuttal instead of a comment designed for a rambling idiot, but you just made that a little more impossible.
You see, Bob, whenever people prematurely dismiss my thoughts as idiotic, it's because they think they're talking to you, not me.
Let me tell you, I thought bitter Clevelanders made it hard to speak up against LeBron, but you have them beat by a mile. So thanks for discrediting people like myself even more, and here's hoping you grow up eventually...but even if you do, the damage is done.
Sincerely,
Luke, a.k.a Logic