New Orleans Saints: What Who Dat Fans Can Expect from Junior Galette in 2012
February 10, 2012

Chris Graythen/Getty Images
The New Orleans Saints are headed into the 2012 NFL offseason with a new defensive coordinator in Steve Spagnuolo, and I am extremely excited to see what he can do with defensive end Junior Galette.
Galette was an undrafted free agent in 2010, and the Saints picked him up during training camp. Throughout the 2010 preseason, Galette became a fan favorite and solidified his place on the Saints' 53-man roster.
He did not see much playing time in 2010, but last year, Galette began to see the field on a consistent basis.
In 2011, Galette played in every one of the Saints' games, and racked up 4.5 sacks in his first full year in the NFL. Galette played mostly as a third-down pass-rusher, and did very well in that role throughout the season.
He may, in fact, be the best pure pass-rusher on the team. Defensive ends Will Smith and Cameron Jordan are both very good at stopping the run, and Smith has shown glimpses of greatness in pressuring the quarterback in previous seasons.
However, Galette seems to get near the opposing passer every time he is on the field.
As far as a typical NFL defensive end goes, Galette is pretty undersized. He stands at 6'2" and 258 pounds, which is relatively small when discussing professional defensive linemen.
Galette uses his speed to get by pass blockers, and to the quarterback. This is probably his greatest strength, and a big part as to why he is still with the Saints.
The negative part of Galette's game right now is that he does not do very well against the running game.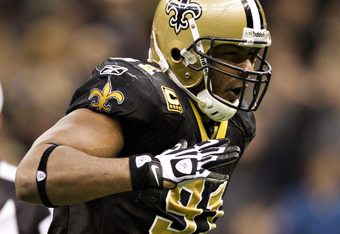 Wesley Hitt/Getty Images
Galette has difficulty in shedding blockers and making tackles. As a smaller defensive end, it is also tough for Galette to keep containment, and push the runners back inside.
The only thing keeping Galette from being a starter with New Orleans is his inability to play well against the run. However, I expect that part of Galette's game to change greatly with the addition of Spagnuolo.
Galette is currently listed as the third right defensive end, behind Smith and Jeff Charleston, but he is really more of a backup to Jordan on the left side.
In 2011, Galette would normally come in for Jordan in passing situations, and the two would continue to trade out the spot throughout the game.
We have already discussed that Smith may not be back in New Orleans next year, which would leave a vacancy on the Saints' defensive line. Galette will definitely have his chance to prove that he is worthy of a starting spot.
I believe that Saints fans can expect to see Galette bulk up again this offseason, but not so much that he loses his speed. If Galette can gain a little weight, and improve his game against the run, then we may see him starting opposite of Jordan in 2012.
I think that the more likely scenario is that Galette will continue to be a role player on the defensive line, and provide great depth for the Saints.
I expect his numbers across the board to increase during his third year in the league. Spagnuolo loves getting pressure with his four down lineman, and Galette will certainly be used for just that.
Since Spagnuolo expects so much from his D-line, they will need to have good depth, and a solid rotation to keep guys healthy and fresh. Galette will certainly receive opportunities to make an impression on the coaches, and I think that we may see him do that.
Galette's sack total in 2012 should hit the seven to nine range, in my opinion. I believe that a combination of Spagnuolo's system, Galette's growth and the Saints' need for his play will equate to a solid season for this young player.
He is a fan favorite, and most of Who Dat Nation cannot get enough of this talented defensive end. I believe that, in 2012, we will see Galette establish himself as one of the best weapons on the Saints' defense. He will make it impossible for the coaches not to put him in the game.
I think that Galette will use the 2012 NFL season as a stepping stone to a starting job with the Saints in 2013.