Colorado Avalanche: Analyzing Tyson Barrie's First Game in the Pros
February 9, 2012

Doug Pensinger/Getty Images
Tyson Barrie got to see his first action in the NHL during the regular season when he joined the Colorado Avalanche from the Lake Erie Monsters against the Chicago Blackhawks on Tuesday night.
Barrie replaced fellow rookie sensation Stefan Elliott in the lineup, as Elliott's production has fallen off and Barrie has been playing very well for the Monsters.
With the Avalanche in the midst of a five-game winless streak, Barrie got the phone call in order to help give the Avalanche a spark.
The Avalanche won Barrie's first game in the NHL by a score of 5-2. Though Barrie did not score a point, he still logged nearly 16 minutes of ice time.
Barrie looked a bit nervous early in the game, but he settled into the pace nicely and never looked like a lost rookie.
Barrie's first instinct as a defenseman is to jump up into the play and become a part of the rush, something he could be seen doing throughout the evening.
Barrie was responsible in the way he did this, though, never trying to force anything that he knew wasn't there.
Barrie didn't pinch in a reckless manner and dumped the puck in several times rather than trying to slip a check or make a bold pass. He simply got the puck in and allowed the forecheckers to do their job.
In his defensive zone, Barrie showed the same kind of poise and smarts that Kevin Shattenkirk showed during his first days in an Avalanche uniform.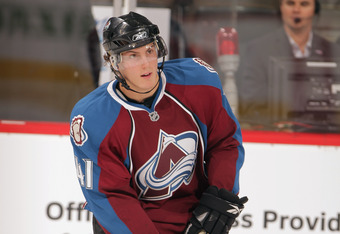 Doug Pensinger/Getty Images
He was decisive with the puck, made smart plays, didn't force something that wasn't there and didn't get lost in the moment.
The thing that concerned me the most about Barrie was his size, and I use the past tense for a reason.
We're all familiar with how small the Avalanche defense was last season and how easily they got pushed around.
Barrie, though small, was not afraid to play the body and didn't shy away from any hits that came his way either.
He absorbed a couple of good hits and threw a couple of them as well, though he was only credited with one official hit.
At the end of the night, Barrie finished with 23 shifts, two blocked shots and was even on the night.
As far as first performances go, it wasn't spectacular by any means, but it also wasn't terrifying.
While the Avalanche won the game, it wasn't because of a spark that he brought.
It's difficult to say exactly how long the Barrie "experiment" will last, especially with a coach who is as unpredictable with his lineup as Joe Sacco is.
One thing that Sacco has been consistent with, is that if a player gives him a reason to keep them in the lineup, they will stay in that lineup.
Hopefully Barrie's play will give us all a reason to want to keep him around.