Buffalo Bills: How 2012 NFL Draft and Free Agents Could Make Them Contenders
February 8, 2012

Jim Rogash/Getty Images
After a promising 5-2 start to the season, including upsets of New England and the Philadelphia "Dream Team" Eagles, the Buffalo Bills were smacked right back down to earth, losing seven in a row, including four crucial divisional games. Buffalo finished the season with a 1-5 division record, a 6-10 overall record, and a lot of disappointed fans.
The Bills haven't made the playoffs since 1999 (currently the NFL's longest drought), have finished 4th in the AFC East four years in a row, and have a combined record of 42-70 over the past seven seasons. So why am I so optimistic about the Bills' chances next year? Here are a few reasons why:
1. The Offensive Line 
The offensive line has consistently been a problem for the Bills in the past decade, from when Drew Bledsoe was quarterbacking the team, all the way up until the team's divorce with Trent Edwards. This year however, the Bills line gave up the fewest sacks in the league. That's right: Ryan Fitzpatrick took less sacks than Tom Brady, Aaron Rodgers, Drew Brees, etc.
Since we know that Fitzy didn't have the best season statistically, this statistic has more to do with the stellar play of the offensive line, rather than Fitzpatrick's above-average release time.
The O-line wasn't only great in pass-protection, but they were pretty darn good run-blockers too. At the time of his injury (Week 11), Buffalo RB Fred Jackson was third in the league in rushing with 934 yards on the ground and six touchdowns. He showed just how effective he could be in all facets of the game by hauling in another 39 passes for 442 yards. When he was put on injured reserve, second-year running back C.J. Spiller filled the void quite nicely, carrying the ball 86 times for 446 yards and five total touchdowns in his final six games, good for a 5.2 YPC average.
If Spiller's numbers are extrapolated over a 16-game season, he finishes the season with 1,189 rushing yards and over 13 TD's—excellent numbers for any player, let alone a second-year running back. Spiller and Jackson are both talented, but if you ask any of these guys where their success came from, they'll probably chalk it up to two things: hard work, and the big guys up front.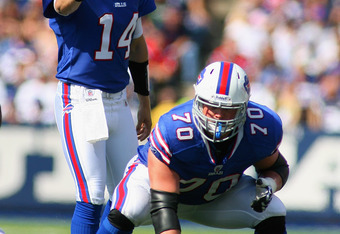 Rick Stewart/Getty Images
2. A Healthy Roster
If you're an observant football fan, or just a Bills fan, you probably realized that the Bills started slipping when they started losing key players to injuries. This isn't to excuse the team's 6-10 finish, but on a team like the Bills where they don't rely on one standout player (i.e Tom Brady), and rather on team chemistry and cohesion, losing players like Pro-Bowler Kyle Williams, budding center Eric Wood, and former No. 1 corner Terrence McGee is devastating.
The starting running back went down in Week 11. Shawne Merriman, who was supposed to help bolster our pathetic defense, went down in late October. And then November came around, where the team lost Wood, Williams, McGee, good deep-threat Donald Jones, former second-rounder Torell Troup, and stud kicker Rian Lindell—all in the span of one month. I guarantee you, if the Giants had lost their key players at similar positions, they would be far from the current Super Bowl champs.
This offseason will allow all the injured players to fully recover, and gives them another year to master the playbook. We've only seen improvements under Chan Gailey so far, and hopefully this trend will continue.
3. The Front Office
For years and years, this has been a weak point for the Bills. Whether they were 9-7 and on the brink of a playoff appearance, or 7-9 at the bottom of the heap, the Bills front office hasn't been among the league's best in recent memory. There have been several blown first-round picks (J.P. Losman and Aaron Maybin, to name a few), few key free agent acquisitions, and though the idea of playing one game every year in Toronto is profitable, it's definitely ticked off the fans at home.
But since the hiring of Buddy Nix as General Manager, the Bills have made some pretty good progress. They are drafting a lot better (Spiller, Marcel Dareus and Aaron Williams all have promising futures), the coaching hires are positive, and the word around town is that the team is looking to be aggressive during free agency.
Of course, head coach Chan Gailey should also be given some credit, as his team stays fired up and play with heart under him, despite poor finishes. That is something that was severely lacking during Dick Jauron's tenure.
Look for the Bills to bolster their defense with the 10th overall pick (Courtney Upshaw or Quinton Coples, anybody?) and go after some marquee free agents this offseason (Vincent Jackson, Mario Williams and Dwayne Bowe?). They have already signed legitimate deep-threat David Clowney, who they will use to effectively stretch the field next year. All in all, the Bills have shown tremendous improvement as a franchise over the last two seasons. Next year will be the year to put everything in place and make a playoff run.
Prediction: Bills finish the 2012-2013 regular season with a 10-6 record, good for second in the AFC East and the 5th seed in the AFC playoffs. They lose their opening wild-card game to the Baltimore Ravens, but are happy with the improvement and optimistic about the future of the team.