Jordan Eberle Shows No Signs of a Slowdown in Edmonton
February 8, 2012

Bruce Bennett/Getty Images
Jordan Eberle, Edmonton's young star on the rise, worked overtime to get his picture-perfect moment at the recent All-Star Game in Ottawa.
He was certainly a fitting choice to play alongside some of the top talent in NHL circles, a second-year forward showing no signs of suffering the dreaded sophomore jinx.
For Eberle, who has already eclipsed his fine first-year numbers from 2010-11, the chance to rub elbows and talk shop with some of his fellow NHLPA members was at the top of his 'to do' list.
"When you see all the names of the players, you just shake your head," said Eberle, Edmonton's first-round, 22nd overall selection in the 2008 NHL Entry Draft. "It was my first time and I wanted to make the most of it in every way."
While he skated away with just one photograph, it's one he's sure to hold on to for a long time.
"As a younger player, seeing how long some of these guys have played, what they've accomplished and how professional they are on and off the ice, it's amazing," said Eberle, who finished the 2010-11 campaign with 43 points (18 goals and 25 assists) in 69 games, leading his team in scoring and ranking sixth among league rookies. "One guy I really wanted to meet was Pavel Datsyuk. He's unbelievable in what he does on and off the ice. He's just a great two-way player."
A player Eberle marvels at.
"I'll tell you this…it's not enjoyable at all to play against him," said the 21-year-old, of Detroit's heralded two-way talent. "He always seems to be on the right side of the puck and doesn't seem to make mistakes. Trying to defend against him is about as tough as it gets. I really wanted to meet him and get a picture taken with him."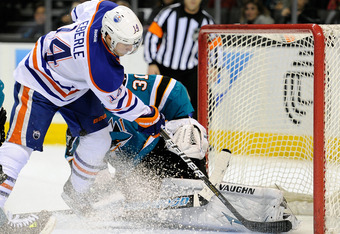 Thearon W. Henderson/Getty Images
Eberle, well-known in his own right for his success with Team Canada (he won gold and silver at the World Juniors in 2009 and 2010, respectively), worked hard to make it a reality.
"I was texting back and forth with him in between periods and we finally got it done," laughed Eberle, who was named Tournament MVP and Best Forward at the 2010 World Junior Championships and is Canada's second all-time leading scorer at the tournament with 26 points, five behind Eric Lindros. "He was great. He's quiet, but he was extremely nice and we had the chance to talk about hockey, especially his off-ice preparation."
Eberle, averaging more than a point per game in 2011-12, saw first-hand just how focused Datsyuk is before he takes his first shift.
"Here we are, playing in an All-Star Game, and he's preparing for it as though it's Game 7 of the Stanley Cup Finals," recalled Eberle, who returned to the city he was drafted in and the place he won gold with Canada three years ago. "When we talked, it was about what goes into the side of your game before the puck drops, the training, the approach. I really took a lot from our conversation."
The All-Star experience was also a nice change of pace from the rigors of an 82-game schedule.
"Obviously, it's quite opposite of a regular season or playoff game," noted Eberle, whose first NHL goal on October 7, 2010, topped several polls as the goal of the year. "Sometimes, it's nice to have that chance to see the game from a different side. We all had a great time and I think the fans enjoyed it, too."
Eberle's hoping to keep up his production level as the Oilers, who find themselves outside of the playoff picture, look to be strong in the second half.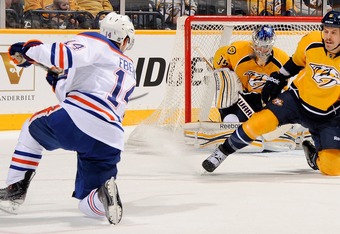 Frederick Breedon/Getty Images
"We just really need to get some wins," he said. "We went through a tough stretch, but we've been playing really well the last little while. We just have to look at things from a game-to-game standpoint.
"Personally, I just want to keep contributing and producing offensively," he continued. "You try and maintain consistency in your game and that's what I'll look to do."
He'll also hope to build off his All-Star experience and conversation with one of the sport's elite players.
"I took away a lot from the entire time I was there," offered Eberle, who scored his 20th goal of the season against Chicago in an 8-4 home win. "I only got one picture taken with another player, but I'm happy I had the chance to meet up with Pavel."
Unless otherwise noted, all quotes were obtained firsthand.
Related Content
Video: Meet the World's Toughest Directors - Player's Playbook
Proud of What They've Built in St. Louis
Gabriel Landeskog Right At Home in Colorado
Video: Meet The Rookies - Jake Gardiner