2012 NFL Draft: A Look at the New England Patriots' Team Needs
February 8, 2012
Ezra Shaw/Getty Images
Fresh off their second straight Super Bowl loss to the New York Giants, the New England Patriots will focus the complete attention to preparing for the NFL Draft.
Over the course of the last decade, the Patriots have solidified their spot as the best franchise when it comes to building a team through the draft and NFL free agency.
What positions should Bill Belichick's team have its attention on this offseason? 
Picks in first two rounds: first (27, 31), second (48, 63).
Key Free Agents:
Wes Welker (WR), Deion Branch (WR), BenJarvus Green-Ellis (RB), Dan Koppen (C), Andre Carter (DE)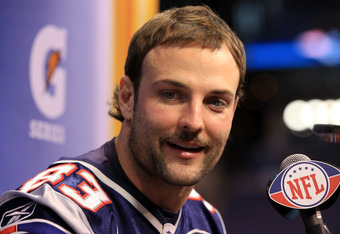 Scott Halleran/Getty Images
Needs
Wide Receiver: I expect the Patriots' top priority of the offseason to be re-signing Wes Welker because he's virtually irreplaceable in the New England offense. However, after Welker, they have two tight ends and then no one else. They lack the ability to truly spread the field and there's no doubt that even if they re-sign Deion Branch it might not be enough to keep the offense as high octane as it was this season. The team has four picks in the first two rounds, and I wouldn't be surprised if the spent one on a wide receiver.
Possible Picks: Nick Toon (Wisconsin), Mohamad Sanu (Rutgers), Dwight Jones (North Carolina).
Cornerback/Safety: Solidifying their pass defense is crucial this offseason for the Patriots. They were the league's worst secondary in terms of yards allowed all season, and a main reason was because of youth and injury in the secondary. At times you saw players like Julian Edelman (a primary return man and WR) playing an upwards of 20 snaps per game in the secondary. Kyle Arrington and Devin McCourty are both young, and Arrington even led the NFL in interceptions, but their play overall wasn't stellar.
Possible Picks: They could take a player like Jamell Fleming of Oklahoma early, but a player I'm high on late to add depth at the position is Shaun Prater of Iowa. Also, Mark Barron (Alabama).
3-4 Outside Linebacker: The Patriots played more of a 4-3 front this season and it absolutely torched them all season so I expect them to move back to their more traditional 3-4, meaning they'll need to find a true edge pass-rusher. They don't currently have a guy that can consistently beat a one-on-one matchup, and that's what they'll need to look for come April.
Possible Picks: Chandler Jones (Syracuse), Bruce Irvin (West Virginia), Nick Perry (USC)
Defensive Line: No matter what defensive scheme the Patriots play from in 2012, they'll need to add some depth to the defensive line, whether it be on the outside, as I alluded, to or interior to play alongside Vince Wilfork say they stay in the 4-3.
Possible Picks: Jerel Worthy (Michigan State)