Super Bowl 2012: Brandon Jacobs Tells Gisele Bundchen to Shut Up
February 7, 2012

Jeff Zelevansky/Getty Images
Apparently, New York Giants RB Brandon Jacobs did not feel that Gisele Bundchen's harsh comments about Tom Brady's teammates were warranted. 
Gisele, Brady's wife in case you've been living under a rock, had some quick and pointed comments directed towards her husband's teammates following their Super Bowl loss, and The Insider captured it on camera. 
The video has since been shown all over the place. Needless to say, it is not exactly being well received. Count Jacobs as one who is not receiving it well. 
The New York Post's Brian Costello relayed this quote from Jacobs: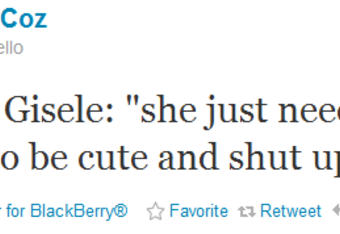 Jacobs holds nothing back in this comment. He doesn't go for the politically correct approach saying something like, "Well, I'm sure she was emotional and probably wishes she could take it all back."
Instead, he goes on a full-bore sexist attack. 
While these comments are certain to draw ire from some sects of society, I wouldn't expect one of those sects to be NFL locker rooms. 
Players seldom call out other players, and the New England Patriots weren't pointing any fingers following the loss. These same players are not going to be thrilled about Gisele's comments.
Still, Jacobs would have been better served to use a touch bit more class in his comments. He now just needlessly made himself a villain in the eyes of many.