Arsene Wenger, Summer Plans and Desire for Eden Hazard
February 7, 2012
Alex Livesey/Getty Images
Arsenal continue to live in the shadow of Manchester United.
A recent survey of sport clubs' Facebook pages has Manchester United way ahead of Arsenal in terms of users.
In my "Messi" article, I wrote the following:
 In the last year, United broke the £100 million ceiling in commercial revenue at £103.4 million. In the same period, Arsenal commercial revenue was £46.3 million.

This illustrates immediately why Arsenal can't compete with Manchester United in the transfer market. A quick survey shows that the other top clubs in Europe, Madrid and Barcelona all outstrip Arsenal in commercial revenue.
I then noted in that article that the next challenge facing Arsenal is to close this huge revenue gap, even as the club seeks to pay off her stadium debt.
The task therefore for Arsenal is to close this gap. This is what Stan Kroenke has said he intends to do.

Last summer's preseason tour of Malaysia was simply the first step towards that. This summer Arsenal will be going to Nigeria, the most populous country in Africa. I see this as an aggressive push to make the Arsenal brand better known globally. This in turn will yield more revenue for the club.
The vision remains to be self-sustaining—an ability that will enable the club to buy any players it desires, pay players competitive wages and be able to rebuff clubs that come seeking for its players.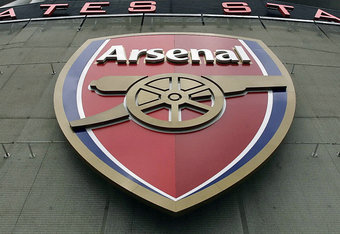 The full realization of this vision is only three years off.
It is for the above reason that the club plans a Nigeria tour this summer. The rationale behind this is aimed at tapping the huge market in that country.
As noted above, Nigeria is the most populous country in Africa, and it is understood that Arsenal are a hugely popular club in that country due to its connection to Nwankwo Kanu, who played for the club from 1999 to 2004.
The aim of this tour is to expand and monetize this huge fanbase (via The Guardian):
According to the Premier League's research, there are 342 million Premier League fans in Africa and Arsenal are particularly popular in Nigeria because of their association with the country's striker Kanu, who played for them between 1999 and 2004. Asia is also a hotbed of support for the English game and Arsenal believe that going on a high-profile tour in the region can only help to fire their popularity which, in turn, can be exploited in hard financial terms.
It is understood that the Nigeria tour will occur at the end of July, following a preliminary tour in Seoul, Beijing and Hong Kong in July.
Both Nwankwo Kanu and Patrick Vieira, seen here in their respective national colors, played for Arsenal as teammates. 
Before now, Arsene Wenger has eschewed summer tours, as he felt they disrupt the team's preparation for the coming season.
He, however, compromised last season, because the need to close the revenue gap between Arsenal and the top three clubs—Real Madrid, Barcelona and Manchester United—is imperative.
Permit me an aside: 
The reason why Barcelona will continue to lure Arsenal stars away—or Manchester City, to that effect—is because these clubs are able to offer the wages Arsenal, at present, cannot match.
Now imagine Arsenal (with its current manageable debt of £97.8 millions, which will further reduce this year) earned a £100 million revenue like Manchester United.
They could, then, efficiently and practically rebuff Manchester City, when the club seeks to lure away Arsenal players.
Barcelona would lose its current hegemony because Arsenal would be able to buy the best players and be able to keep them.
I believe Arsenal are the only club that could have challenged Barcelona's hegemony had Wenger similar resources and materials.
Permit me a second aside:
The time to sack Wenger and the board is when the current debt is paid off, and the revenue earning has improved and the club refuses to buy top players. That would be when it'll be apparent that the club has taken the fans for a ride. 
As it is, the club has done everything it said it would do when it proposed the move from Highbury, which was necessary to enable the club to challenge Manchester United's dominance in England.
Let's return to dominance then.
Here are the figures from the Facebook survey I mentioned at the beginning of the article.
Figures courtesy of Sporting Intelligence
The three top football clubs, you'd note, double Arsenal's fanbase on Facebook. You don't want that as Arsenal.
You want your brand name to compete favorably with your rivals'.
The challenge right now for the clubs remains with how to monetize the Internet fanbase. Success here means financial dominance, and here is where Arsenal's advantage lies.
The three top football clubs remain hugely in debt. In fact, for all three, the possibility of bankruptcy is a real one, which is unfortunate as these top clubs remain the world's top revenue earners.
Arsenal do not have the same problem, meaning that increased revenue equals increased power, as far as as buying good players is concerned. It's why I've told a few of my readers that Arsenal will be the new Barcelona.
Fans need to realize this and put their support behind the team, in place of the current clamor for the dismissal of Arsene Wenger, who has been a huge piece in this vision for world dominance in football.
And it will come.
Arsenal are unable to realize this right now because of their inferiority in the area of revenue and wages.
Refer to the last column in the diagram above. Note that Arsenal are ranked 22 under the "Pay Rank" list.
Manchester United, Chelsea, Liverpool are ranked higher than Arsenal, meaning they have a higher wages structure. It also means these clubs can steal our players if they want since they can promise higher pay.
Arsenal, of course, can raise their salary structure.
This is true, but it's not possible under the current annual revenue.
Arsenal can do this only by increasing their annual earning, which at the moment, is too dependent on Broadcast and Matchday earnings.
Arsenal, to match Manchester United, need to increase their wages through the sale of jerseys and other memorabilia, hence the need to capitalize on the global market through Facebook and touring.
Manchester United already are ahead in the North American market and in China.
Asia remains a hugely untapped market. The Seoul, Beijing and Hong Kong tours are geared at tapping into this market. The same is true of Africa.
Arsenal's long-term vision and short-term plans should be heartening to the fans.
These are steps in the right direction.
The idea that dominance in football is a direct result of  a club's financial clout is not exactly rocket science.
The more money Arsenal can generate (compare the Highbury figures and Emirates', for example), the more the club can afford the best players, players such as Eden Hazard, whom Arsene Wenger is eyeing for summer.
Here's what he says about Hazard:
I like Eden Hazard a lot, and for many reasons.

His creative ability, his talent for unbalancing opponents, his vision of the game, and his consummate skill in making the final pass all make him an in-demand player.

Hazard has what it takes to play for a top-level club, and Arsenal are a top-level club.

The Lille star, Eden Hazard, could be an Arsenal player next season.
At this point, there's no reason not to assume that Wenger will be looking to sign Hazard in the summer.
Meanwhile, I urge my fellow Gooners to continue to support the club, its laudable principles and its vision.
Let's not sell our birthright (our future prospect) for a bowl of soup. Only the vision-impaired do this.