2012 Laureus Awards: Djokovic and Cheruiyot Among Those to Triumph in London
February 7, 2012

Tom Dulat/Getty Images
London warmed up for its summer Olympic commitments in perfect fashion by playing host to several distinguished sportsmen and women as the 2012 Laureus World Sports Awards rolled into town. 
As reported on yesterday, the event is seen as the leading ceremony to annually honour sport's elite achievers across the entire spectrum. This evening's attraction capped off an enjoyable weekend that has seen droves of sporting icons congregate in the heart of the capital.
As well as the numerous sports stars connected to the project as Laureus Ambassadors or Laureus Academy members, gazing on at the entertainment were some equally established guests, not to mention the millions of viewers tuning in across around 150 different countries.
The night began with many of these leading figures arriving and being politely persuaded to patiently loiter around the red carpet area and pose for photographers. After that, they were then asked to tackle a waiting media scrum and answer a few questions.
Once that particular gauntlet was successfully navigated, people slowly began taking their seats, scattered around a plush, futuristic-looking set design.
Presenting the action, Laureus added a dash of authenticity to the setting, recruiting Britain's very own Golden Globe and BAFTA award-winning actor, Clive Owen. Accompanying him was Thandie Newton, on hand to present segments of the show, too.
However, whilst it had been suggested this Hollywood pair were due to deliver the majority of the lines, it turned out the familiar tones of Steve Rider would be heard most, as he anchored large chunks of the night's action. Additionally, moments after collecting an award, Georgie Thompson would quiz the winners from an ice-cold looking balcony with several prominent London landmarks filling the backdrop.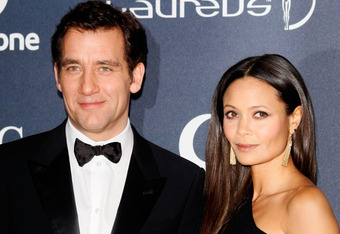 Tom Dulat/Getty Images
As the evening evolved, more and more interview opportunities began to emerge—material that will be further delved into tomorrow. But for now, here are tonight's events:
World Sportsperson of the Year with a Disability—Oscar Pistorius
The first winner announced was South Africa's Oscar Pistorius, and winning meant he was quickly decorated with some of Cartier's finest work, a 30cm exclusive Laureus statuette that instantly matched the flashy design of the set's striking decor.
Tony Hawk came on stage to present the award to the man also know as 'Blade Runner' and he seemed notably moved receiving it. Pistorius' silver medal—won as part of the 4 x 400 metres relay team in August—meant he became the first amputee to ever win a non-disabled track medal at the World Championships. 
World Comeback of the Year—Darren Clarke
Popular golfer, Darren Clarke, was next to claim a silver statuette, pipping several other respected candidates in a close-fought category. His triumph at the Open Championship in July was the sporting highlight of last year for so many people, and he collected his trophy from Gary Player.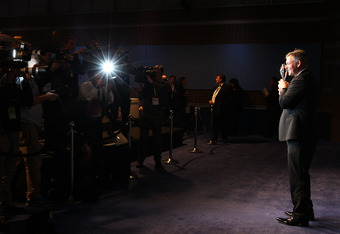 Tom Shaw/Getty Images
After the award, Laureus posted a moving tribute to Seve Ballesteros, an Academy member who, of course, sadly lost his battle with a brain tumour last year. 
World Action Sportsperson of the Year—Kelly Slater
America then came to the party in a big way, when surfing legend, Kelly Slater, was awarded his fourth consecutive trophy in the Action division. That feat matched an all-time Laureus record, set by Roger Federer from 2005 to 2008.
At 39, Slater won a record 11th World Surfing Championship in 2011, and has remarkably now been crowned both the youngest and oldest ever surfing champion. Unable to collect in person, he sent a short promo expressing his pride at winning, and admiration he has towards Laureus.
From here on in, the winners started emerging for press conferences, and coverage became a tad more complex to fully achieve. From sitting, enjoying the show and noting down important snippets, suddenly there was a need to multi-task.
World Team of the Year—Barcelona
This one just had to happen. As impressive as each of the other nominees were, Barcelona's results in 2011 were simply insurmountable for anyone to pass here. Winning both the Champions League and domestic league title in an entirely commanding season, Club President, Sandro Rosell, collected the award on behalf of this imperious unit.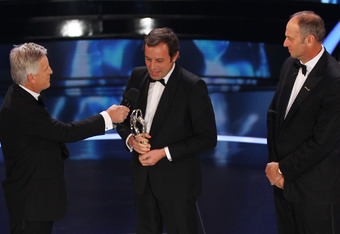 Matthew Lewis/Getty Images
Finding the right balance to successfully combine an attractive style with continued effect has never been easy in football, but it is an equation the Spanish giants—under Pep Guardiola—have truly solved during recent seasons.
Dazzling opposition with their quick, sophisticated, one-touch passing game, absorbing a game's possession before ruthlessly executing a chance, nobody has yet found a way of continually thwarting their intricate methods. Lead by Lionel Messi, this irresistible force are causing some to even start hailing them as the greatest of all time.
Proceedings were then temporarily interrupted as Bryan Ferry was scheduled to perform a short burst of music. His brief interlude refreshed the crowd before the second half of the ceremony soon got under way again.
World Breakthrough of the Year—Rory McIlroy
McIlroy made it a double for golf and a double for Northern Ireland, as he was rewarded for winning his first major at just 22 last year. His US Open win catapulted him further up the rankings and saw him realize some of his abundant potential.
Another recipient sadly not present to receive the prize, he also sent a video in which he championed Laureus's extensive work across the globe. Gary Player then returned to the stage to further credit McIlroy's accomplishments of 2011.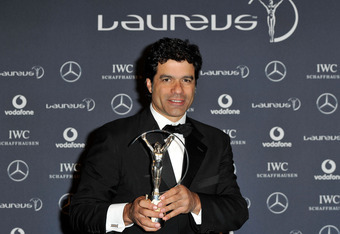 Gareth Cattermole/Getty Images
Sport for Good Award—Rai
Admittedly the press conferences were in full swing here, limiting the attainable detail for this one. However, what is clear is that former Brazilian international, Rai, was next and collected this award for his contributions made via his 'Gol de Letra' scheme.
Along with his former Brazilian teammate, Leonardo, Rai has backed this project since 1998, serving to aid the youth of Brazil. His considerable efforts have already reached hundreds of thousands of children and is continuing to expand today.
World Sportswoman of the Year—Vivian Cheruiyot
Having dominated her rivals for much of 2011, Kenyan runner Vivian Cheruiyot deservedly took to the stage to collect this prestigious award. Last year she won gold in the 5,000 and 10,000 metre World Championships, whilst also winning the World Cross-Country Championship earlier on.
Looking at her, considering the shy, fragile frame she carries, there are times when it is hard to comprehend her athletic prowess and determined attitude she shows on the track. However, when given the microphone Cheruiyot transforms into a confident, affable and extremely polite young woman and, if unfamiliar with her before, the London crowd instantly warmed to her.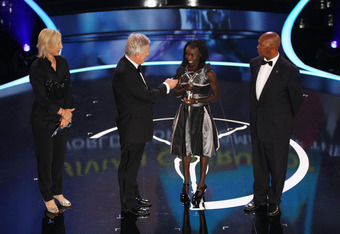 Matthew Lewis/Getty Images
World Sportsman of the Year—Novak Djokovic
Finally, for current sportsmen and women, Novak Djokovic rounded off his memorable 2011 by taking home this coveted gong. Finishing with 70 wins from 76 matches, there were times he was simply unbeatable, playing some of the very greatest tennis ever witnessed.
The Sportsman of the Year had perennially been awarded to tennis stars in recent times. In fact in the last eight years Usain Bolt is the only winner not to swing a racket, punctuating tennis' dominance by winning in 2009 and 2010. 
Djokovic's efforts deserve to continue this trend and he gratefully collected the award from Boris Becker, who stated: "It was one of the best seasons I can ever remember." Apt words to describe a deserving champion.
Amusingly, when Djokovic was later asked which of his two Wimbledon's of 2012 he would prioritize (Wimbledon or the Olympics), and which would be the more important to him, to the audience's amusement, he craftily dodged the bullet,saying the most important event would be the break in between.
As Djokovic then joined the conveyor belt slowly processing winners towards the media for their final press conferences, Edwin Moses took to the stage to thank his guests. He also commended all those associated with Laureus, and relived the passionate speech Nelson Mandela gave at the inaugural Laureus World Sports Awards in 2000, in which he recorded some famous quotes, including:
"Sport has the power to change the world. It has the power to inspire. It has the power to unite people in a way that little else does. Sport can create hope where there was previously only despair."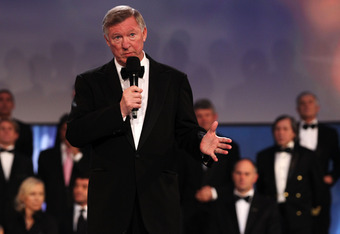 Ian Walton/Getty Images
Then, after wishing Muhammad Ali a happy recent 70th birthday, one final award brought Sir Alex Ferguson to the stage.  
Lifetime Achievement Award—Sir Bobby Charlton
Fittingly, on the 54th anniversary of the Munich air disaster, Sir Bobby Charlton was revealed as the recipient of this prestigious Lifetime Achievement Award. The prize recognized his remarkable life and unending dedication and devotion to sport.
With Charlton sadly too unwell to attend—having had to undergo a "minor" operation—it was left to several sporting legends to paint his life's contributions and depict his greatness to an instantly absorbed audience. 
As a final hearty applause faded for Manchester United's most loyal servant, Clive Owen returned once more to thank the sponsors, patrons, sportsmen and women, before eventually bringing the gala to a close.