Super Bowl 2012 Score: Unlikely Patriots Safety Sends Las Vegas Asunder
February 6, 2012

Jamie Squire/Getty Images
So, raise your hand if you had the first score of Super Bowl XLVI coming on a safety.
If so, I should hope you're also jumping for joy, considering how much the oddsmakers are paying out for such a prediction.
On their first offensive play of the game, the New England Patriots spotted two points to the New York Giants thanks to some pressure from Justin Tuck and what turned out to be a poor decision by the usually incomparable Tom Brady. With the Pats backed into their own end zone, Brady threw the ball 40 yards downfield...to absolutely nobody.
And, because Tuck was bearing down on him, the field umpire called Brady for intentional grounding, thereby granting the G-Men two points without having reached scoring territory themselves. The play marked the fifth safety in Super Bowl history and the second to start a game, the other coming in the Pittsburgh Steelers' 16-6 victory over the Minnesota Vikings in Super Bowl IX.
But while Bill Belichick and his Pats are certainly upset with the outcome, anyone who put money down on the game opening with a safety has to be nearly as jubilant as the Giants. Various sports books and betting services had the unlikely occurrence listed anywhere from 50-to-1 odds to 75-to-1 odds, with some services listing it at +1,025.
Not surprisingly then, some rather lucky bettors made a pretty penny on the Super Bowl well before the end of the first quarter: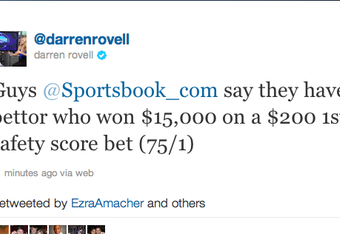 The Hoodie can only hope his Pats will stir up some luck of their own before too long.