Super Bowl Prop Bets: National Anthem, Coin Flip and the Oddest Bets on Sunday
February 5, 2012

Win McNamee/Getty Images
The Super Bowl is the gambler's Christmas, and there may be no better gift than the oddball prop bet. It's the kind of thing only a drunk uncle could think up.
As you stuff your face with another Buffalo wing, Uncle Tony is trying to keep tabs on how long Kelly Clarkson's national anthem is or fighting to see what the result of the coin flip was.
All of these bets are enough to satisfy even the biggest degenerate gamblers in the world. So where do I place my bet?
Result of the first coach's challenge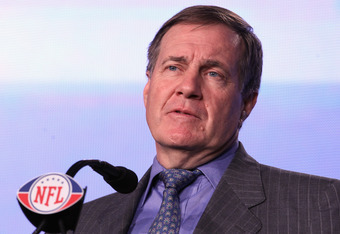 Elsa/Getty Images
As always, the gamblers have invaded every crevice of the game, including the first coach's challenge.
With two coaches as smart as Bill Belichick and Tom Coughlin, their history of successful challenges is well-known. That lends itself to an easy bet for the first challenge being overturned.
Taking into consideration how important timeouts will be in the Super Bowl, the coaches and their staffs will not be wasting their challenges. You can bet that the first will be overturned.
Prediction: Overturned (-115)
How long will it take Kelly Clarkson to sign the national anthem?
In one of the funnier bets of the day, many bookies are taking wagers on how long the national anthem, sung by American Idol winner Kelly Clarkson, will be.
While there is no doubt that Clarkson is a great singer, the national anthem is a long song, and she will be taking plenty of heavy breaths.
Add the pressure to the situation, and there is no doubt that she will drag this song out.
Prediction: Over 1:34 (-150)
How many times will Peyton Manning be shown on TV during the game?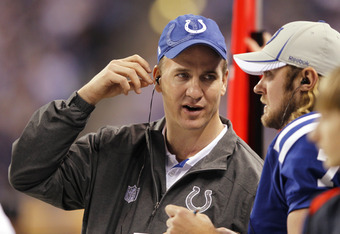 Joe Robbins/Getty Images
Although this should be Eli Manning's time to shine, the fact that Peyton Manning is everywhere doesn't help his little brothers cause. That's what happens when the Super Bowl is Indianapolis.
Now, the question remains how many times we will get Peyton's face on the television during the game. Knowing the country's fascination with this man, it will be at least four times.
If you place the over here, the better the Giants do, the more they will show Peyton. So let's go Giants only if you placed this bet.
Prediction: Over 3 1/2 (-135)
Check back for more on the National Football League as it comes, and check out Bleacher Report's NFL Page to get your fill of all things football.