2012 NFL Mock Draft: Projecting Top Value Picks in the First Round
February 5, 2012

Ronald Martinez/Getty Images
In the first round of the NFL draft, every team is looking for value. No team wants to reach, but they sure do want to take advantage of other teams' reaches.
Of course need is a huge factor in draft selections, as it should be. But many general managers base their thinking on value and these are some of the best GMs in the game.
Every general manager wants to find value, but not all picks are created equal. Some are much better than others and this mock drafts highlights the good ones.
1. Indianapolis Colts: Andrew Luck, QB, Stanford
2. St. Louis Rams: Matt Kalil, OT, USC
3. Minnesota Vikings: Justin Blackmon, WR, Oklahoma State
4. Cleveland Browns: Robert Griffin III, QB, Baylor
5. Tampa Bay Buccaneers: Morris Claiborne, CB, LSU
6. Washington Redskins: Trent Richardson, RB, Alabama
7. Jacksonville Jaguars: Whitney Mercilus, DE, Illinois
8. Carolina Panthers: Michael Brockers, DT, LSU
9. Miami Dolphins: Quinton Coples, DE, North Carolina
10. Buffalo Bills: Riley Reiff, OT, Iowa
11. Seattle Seahawks: Ryan Tannehill, QB, Texas A&M
12. Kansas City Chiefs: Mike Adams, OT, Ohio State
13. Arizona Cardinals: David DeCastro, OG, Stanford
14. Dallas Cowboys: Dre Kirkpatrick, CB, Alabama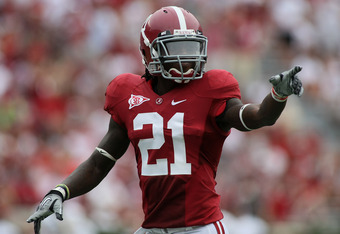 Greg McWilliams/Getty Images
Team needs and a marijuana arrest make Dre Kirkpatrick fall this far, but let's be honest: a marijuana arrest is not a big deal.
On talent alone, Kirkpatrick is one of this draft's best players. He weighs in at 6'3", 190 pounds and is fast and explosive. The Alabama star has some issues as a player, but he should be able to overcome them all.
Dallas's secondary is inconsistent at best and downright awful at worst. Defensive coordinator Rob Ryan loves a good cornerback and Kirkpatrick is exactly that guy.
15. Philadelphia Eagles: Fletcher Cox, DT, Mississippi State
16. New York Jets: Michael Floyd, WR, Notre Dame
17. Cincinnati Bengals (from Oakland): Mark Barron, S, Alabama
18. San Diego Chargers: Courtney Upshaw, OLB, Alabama
19. Chicago Bears: Alshon Jeffery, WR, South Carolina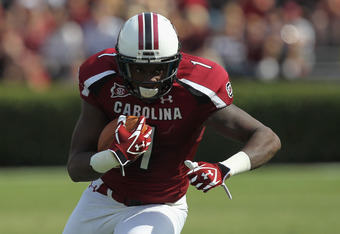 Streeter Lecka/Getty Images
People either love or hate Alshon Jeffery. The South Carolina star has had his issues, but he has the most potential of any wide receiver in this draft.
At 6'3", 230 pounds, Jeffery is perhaps a bit too big. He has looked fat and slow at times, so he'll need a solid combine performance.
Though he has had issues, Jeffery is still a physical monster with absurd catching ability. It's possible that Jeffery develops into a top-five wide receiver.
20. Tennessee Titans: Janoris Jenkins, CB, North Alabama
21. Cincinnati Bengals: Kendall Wright, WR, Baylor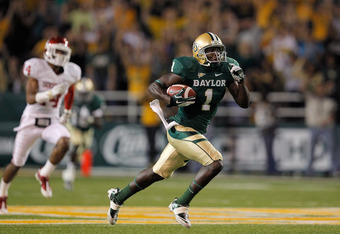 Sarah Glenn/Getty Images
Kendall Wright is my top wide receiver in the draft. The Baylor star is quick, fast and explosive. At 5'10", 190 pounds, Wright is small, but he makes up for it in other ways.
Like Steve Smith and Jeremy Maclin, Wright can excel in spite of his size. It's hard to keep up with him and he can juke out the surest of tacklers.
The Bengals don't really need a wide receiver, but Wright is too good of a value to pass on. Wright and A.J. Green could be a special duo for years to come.
22. Cleveland Browns (from Atlanta): Nick Perry, DE, USC
23. Detroit Lions: Luke Kuechly, LB, Boston College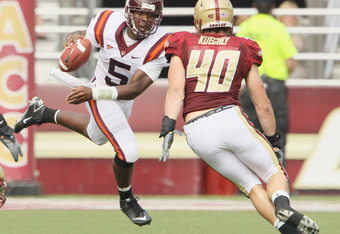 Elsa/Getty Images
I would take Luke Kuechly around No. 10. The Boston College linebacker isn't the next Ray Lewis, but he will be solid for many years. 
At 6'3", 235 pounds, Kuechly has decent size and is an underrated athlete. He can run in coverage or attack against the run.
The Lions' linebackers are awful in coverage and Kuechly would be a huge upgrade at any position. This is the rare scenario in which need and value match up perfectly—an absolute no-brainer. 
24. Pittsburgh Steelers: Dontari Poe, DT, Memphis
25. Denver Broncos: Stephon Gilmore, CB, South Carolina
26. Houston Texans: Mohamed Sanu, WR, Rutgers
27. New England Patriots (from New Orleans): Devon Still, DT, Penn State
28. Green Bay Packers: Melvin Ingram, DE/OLB, South Carolina
29. Baltimore Ravens: Vontaze Burfict, LB, Arizona State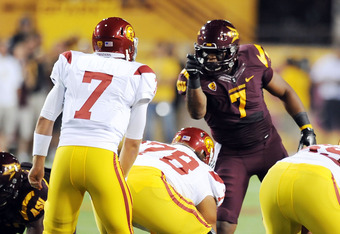 Norm Hall/Getty Images
There is tons of controversy surrounding Vontaze Burfict—and for good reason. I happen to be a fan, though, so I see him as a tremendous value at the end of the first round.
Burfict is a 6'3", 255-pound freak. However, the Arizona State star is sometimes too aggressive and he is flagged far too often for personal fouls.
If Burfict can be contained, he can develop into a star. There is no better locker room to help develop Burfict, and he is a perfect fit in Baltimore.
30. San Francisco 49ers: Alfonzo Dennard, CB, Nebraska
31. New York Giants: Jonathan Martin, OT, Stanford
32. New England Patriots: Peter Konz, C, Wisconsin