Chelsea FC: Jose Mourinho to Force Andre Villas-Boas Out?
February 3, 2012

Denis Doyle/Getty Images
Jose Mourinho could force his protégé Andre Villas-Boas out of Chelsea, as the Real Madrid boss seeks to quit Los Merengues at the end of this season for a return to the Premier League.
That's according to a report from The Sun, with a "top source" claiming Mourinho would head back to Stamford Bridge as long as owner Roman Abramovich gives him total control of team affairs, something not afforded to previous bosses—especially in the case of Carlo Ancelotti and the Fernando Torres signing.
Hated in Spain and loved in England, Mourinho has talked fondly of his time at Stamford Bridge, and said at the end of December his next move would be back to England.
He has been dogged by controversy ever since his switch from Inter Milan to Real Madrid, and has been criticised quite heavily by his own team.
After that famous 5-0 defeat to FC Barcelona at the Camp Nou, Madrid's sporting director at the time Jorge Valdano publicly criticised Mourinho. He said of the Real boss:
He couldn't bring a major correction to the game. Today he didn't even leave the bench.
And in a 1-1 draw with Barca later in the season, Real Madrid's legend and honorary president Alfredo di Stefano lambasted Mourinho's tactics, saying that the team's approach was, "clearly not the right one" and that they, "just run back and forth constantly, tiring themselves out."
At the end of that 2010-11 campaign, Mourinho was reportedly summoned by Florentino Perez, who criticised the manager and demanded an explanation as to why only one trophy, the Copa Del Rey, was won.
This season hasn't gone much better for the former FC Porto boss off the field, as he recently got booed by his own team's fans in the 4-1 win over Athletic Bilbao.
On top of that, his tactics against Barcelona have once again been questioned, and he also apparently had a training ground bust-up with Sergio Ramos and Iker Casillas.
This is all despite leading his team to a remarkable seven-point gap ahead of Barca at the top of La Liga. 
It lies in stark contrast to his time at Chelsea, where in his first two seasons he was simply lauded by his players, his colleagues, the fans and the media, as he guided the Blues to their first league title in 50 years, and followed it up with back-to-back Premier League trophies.
His only real issue at the club came when Andriy Shevchenko was signed from AC Milan, with Mourinho preferring to play Didier Drogba but owner Roman Abramovich insisting on Shevchenko getting a bigger role in the team.
Compared to what he's had to endure in Spain, it's no wonder he's supposedly relishing a move back to England.
And given how highly he's respected at Chelsea with a lot of his players—Petr Cech, Ashley Cole, John Terry, Frank Lampard, Didier Drogba, Florent Malouda, Michael Essien, Paulo Ferreira, Salomon Kalou—still at the club, that could force current boss Andre Villas-Boas out.
After all, Villas-Boas isn't exactly doing great at the Blues, and has a worse record in every aspect than Luiz Felipe Scolari, who was surprisingly sacked at this stage of the season in 2009.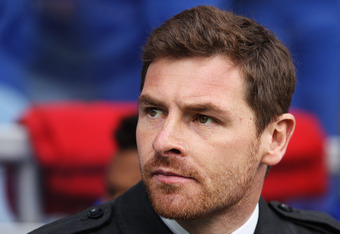 Ian Walton/Getty Images
Plus, the young Portuguese tactician admitted that player power is present at Chelsea, with the players having a say in matters at Cobham and Stamford Bridge. He said:
Because of my age and my lack of a professional playing background, I could never be dictatorial. I therefore let the players have a certain amount of input into decisions regarding the way we play and how the team is run.

Also, when we talk about the well-being of a group, I encourage the players to participate in the decisions affecting their professional life. For example, at Porto I would discuss with the players the starting time of the training or the need for rest days.
Of course whilst that's a good way to cope with demanding attitude of Premier League footballers, it also allows the opportunity for the players to abuse their influence and use it against the boss.
Villas-Boas has constantly faced questions about his potential sacking since he took over the reigns at Chelsea, and has had to cope with reports that he reportedly got the lead pundit on the club's in-house TV station sacked.
On top of that, some sections of the Chelsea faithful have been demanding his sacking, while a website has been set up counting up the days until Abramovich fires his £13.2 million manager.
Like his compatriot and mentor Mourinho, Andre Villas-Boas is really under pressure at his club, and is wanted out.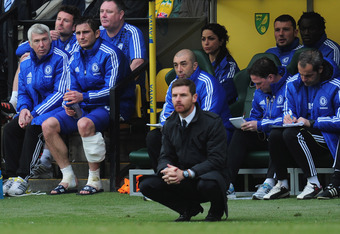 Jamie McDonald/Getty Images
And as the elder Portuguese tactician seeks his former happy place as a possible escape route, the younger one could be bumped off to pave the way for "The Special One" to return.
It's very possible given how Villas-Boas is teetering on the brink of the chop, lacking in results, dangling in dangerous pro-Mourinho player power and under constant surveillance from the eyes of the football world.
He himself has admitted he could be sacked if Jose Mourinho does officially become available, but attempted to down play it by insisting his fellow Premier League managers, "from Roberto Mancini to Sir Alex Ferguson to me to Kenny Dalglish to Harry Redknapp and so on," would also be under pressure.
But could anyone actually imagine Sir Alex Ferguson being sacked by Manchester United? Or Roberto Mancini winning the Premier League this season only to face the chop from Manchester City? Or Harry Redknapp guiding Tottenham Hotspur to the UEFA Champions League only to be told by Daniel Levy he's not good enough?
In reality, whether it's right or wrong, and regardless of what the fans say or feel, Andre Villas-Boas is walking on a very tight rope at Chelsea, and would be bumped by Roman Abramovich the moment Jose Mourinho decided he wanted to leave Real Madrid and return to England.