Chicago Bulls: Making a Case for a Change in the Bulls' Starting Lineup
February 3, 2012

Rob Carr/Getty Images
Chicago Bulls coach Tom Thibodeau employed a strategy in the game against the New York Knicks last night that he rarely does: play a rookie during a long fourth quarter stretch. Not just any rookie, but Jimmy Butler.
It was Butler's iron-clad defense that helped the Bulls rebuild a lead to go along with Derrick Rose's will to win that helped the Bulls get past the Knicks, 105-102. To use an example of Butler's versatility, he guarded and held his own against Carmelo Anthony and Amar'e Stoudemire on separate possessions, forcing them to into shooting bad shots.
Thibodeau's confidence in Butler seems to be growing every time he hits the floor, leading me to this suggestion: start Butler in place of Kyle Korver while Luol Deng and Richard Hamilton are out with injuries.
Some may consider this idea insane, but consider this thought.
The Bulls are guaranteed to make the playoffs as currently constituted. This allows them to continue to rest Deng and Hamilton while giving much-needed experience and confidence to Butler. This is a move which can pay great dividends in the short term and long run.
In the short term you have an energetic forward in Butler who can guard wing players such as Anthony and Miami's Dwyane Wade, and he proved last night that he can guard face-up power forwards as well. He instantly provides an upgrade over Keith Bogans from last season because of his versatile defense ability. And Butler isn't afraid to shoot.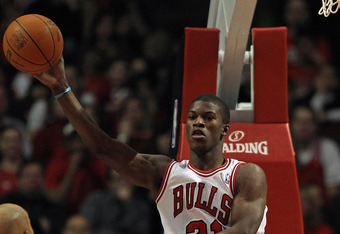 Jonathan Daniel/Getty Images
This gives the Bulls a weapon to bring off of the bench once Deng and Hamilton return to the lineup. For now, Thibodeau can use Butler the same way he used Bogans last season by starting him and giving him the opening six or seven minutes in the the first and third quarters respectively while using Korver's offense on a second unit that is in dire need of a go-to scorer.
In the long term, Butler gaining confidence while starting now may ease the pain of potentially losing Deng in a trade or to a lasting injury. This also allows Deng to fully recover from the torn ligament in his left wrist. The thinking is why risk further injury to a key player as long as the Bulls are winning?
After last night, I have seen enough evidence to suggest that the Bulls should start Jimmy Butler.