Super Bowl 2012 Live Stream: Online Viewing Will Change Super Bowl as We Know It
February 2, 2012

The Super Bowl is the NFL's biggest game and is arguably the biggest day in sports. No other sport has what is essentially a national holiday dedicated to it.
Unless you're a hardcore fan, who has World Series or NBA Finals parties?
Let's not even get started on the NHL.
Sure, as fans you get together with some of your friends and watch these events, but the Super Bowl is something different.
Even people who could care less about the NFL, let alone sports, show up to Super Bowl parties ready to rock.
It's a social event just as much as it's a sporting event, and that's what makes it so great.
That's also a point of negativity for many true-blue NFL fans though.
Every year they sit through the draft, training camps, an agonizing preseason, and then watch every snap of every game they possibly can during the regular season and playoffs.
They are truly invested in the NFL and they care about the product. All of a sudden, when the Super Bowl comes around, their game is infested with fair weather fans and social butterflies.
Nothing is worse than actually wanting to watch the Super Bowl while at a loud, obnoxious party that is centered around everything but the game.
Unfortunately, this is the case for many football fans.
My friends, by brethren—all of this is about to change.
Jared Newman of PCWorld.com tells us about our new options:
For the first time ever, a free live stream of the Super Bowl will be available during the big game in February.

NBCSports.com and NFL.com will offer the live stream of Super Bowl 46 on February 5, 2012, and Verizon users will also be able to see the live stream via the NFL mobile app.
This changes the game folks, and it changes it in a big way.
Those of us stuck at obnoxious Super Bowl parties with the volume down low and the gossip up high need not suffer anymore
Instead of straining yourself to hear the commentary or hurting you neck to see the television, just hop onto your laptop or phone and grab one of the game's live streams.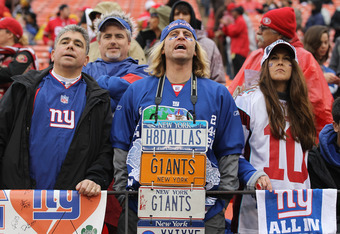 Justin Sullivan/Getty Images
To make things even better, pop in your headphones and enjoy the rest of the game in peace.
Can you imagine a group of dedicated football fans all on their laptops and phones simultaneously streaming the game, enjoying their very own view, still being able to celebrate together while at the same time drowning out all the annoying non-football babble?
The powers of the Internet have guaranteed that we will never watch the Super Bowl the same way again, and I honestly can't wait to see what's next.
This is the future folks, and it's glorious.