San Francisco 49ers: Son for Sale to Pay for Seat License at New Stadium
February 2, 2012

Warren Little/Getty Images
Like a lot of San Francisco 49ers fans, I was in sticker shock when I saw the $80,000 price tag for the best seats at the new stadium in Santa Clara. Then I realized I had the perfect solution.
I'm selling my son.
Forget that, at age 19, he's legally an adult and I have no power over him. Forget too that buying and selling people in this country has been illegal since Abraham Lincoln signed the Emancipation Proclamation in 1863.
I have lots of friends who are lawyers. They can fix these things.
So here's the offer: For 80 grand, you get my son, a sophomore in the honors program at a Big Ten university. (And, please, no cracks about how his school can't be that great because it hasn't figured out there are 12 teams in the conference.)
He's got a college fund, so you don't even have to take over the tuition payments. You might ask why I didn't just swipe his college money for the tickets. I wanted to, but legally, it's his money, and even my lawyers can't fix that.
I tried to sweet-talk him out of his tuition stash, but he has this fanciful notion that he should finish his education. Then I tried arguing, but he's a philosophy major. After going mano-a-mano with the likes of Hegel, Nietzsche and Machiavelli, he found me about as tough as a warm-up bout at the bottom of the fight card.
Believe me, this kid has potential. He wants to go to law school, and with his grades, they'll be lining up to take him.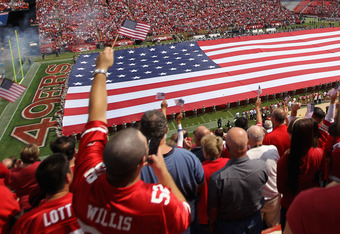 Ezra Shaw/Getty Images
His fund will be pretty much used up by then, so it'll cost you some bucks. But it will be worth it, because he plans ultimately to become a sports agent. Just one big bonus-baby client, and you'll be in clover.
You might wonder if my wife and I will miss him. Well, sure. But he's already been off at college for two years, and we've gotten used to being empty-nesters. Besides, he only responds to about every third phone call. So it's not like he misses us.
When he's home, he's no trouble at all. He stays out until the wee hours with his friends and then sleeps all day. The only time you'll notice him is when you hear the microwave beeping at 2:30 in the morning.
And believe me when I tell you he takes his studies seriously. After his freshman year, he went to summer school in Ireland. My wife and I visited him in Dublin, and were impressed at the way he knew how to wait for the foam to gather at the top of a pint of Guinness. In a bit of pedantry, he also corrected my pronunciation of Smithwick's Ale (it's "Smittick's," for you uninitiated).
As a bonus, he plays the drums. So if your neighbors annoy you, you'll have a built-in way to get back at them.
All in all, it's a great deal—a real win-win. You get lifetime income security from a kid with a brilliant future. And I get a seat at the new stadium.
Operators are standing by.