2013 College Football Recruits: Super-Early Look at Top Quarterback Prospects
February 2, 2012

The 2012 recruiting season is not over quite yet, but things are going to start to die down in the coming weeks. A lot of letters of intent have been signed, sealed and delivered, and the next steps are spring football, summer practices and then the regular season.
The 2013 recruiting season, however, started yesterday—or maybe a few yesterdays before that. It's definitely been going on for a while, anyway.
It's still way too early to know what we're dealing with in terms of Top 2013 prospects, but there are some preliminary lists out there. If you cross-reference ESPN.com's 2013 watch list with 247Sports.com's 2013 watch list, you can get a pretty good idea of how the landscape is looking.
Since we all care about quarterbacks so much, here are five names you should start to familiarize yourself with.
Max Browne (Sammamish, Washington)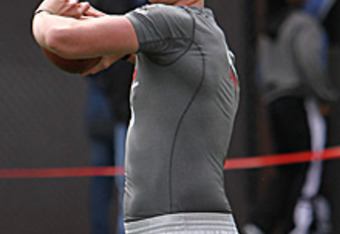 If all goes well, Max Browne could be 2013's answer to Gunner Kiel. Spoiler alert: Browne could be even better than Kiel.
There's not a lot of literature out there about Browne, but ESPN describes him as "A QB with a quick release and great size, arm strength and accuracy."
That's nothing we haven't heard before, but it's not every day you see a high school quarterback get compared to Peyton Manning. Rivals did it with Kiel, and they're already doing it with Browne.
There's already some pretty heavy interest in Browne. He's drawn attention from numerous schools, and Rivals says he already has offers on the table from Arizona State, Cal, Clemson, Colorado, Utah, Washington and Wisconsin.
I'm going to assume he'll get more in the next year.
Ryan Burns (Ashburn, Virginia)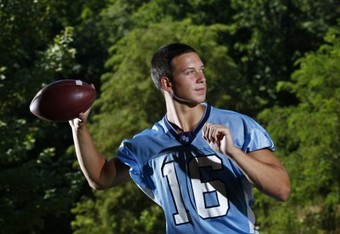 Like Browne, Ryan Burns is a pro-style quarterback who is praised for his ability to throw the football strongly and accurately. ESPN also compliments him for being "poised," which is a relatively rare compliment for high school quarterbacks.
Sadly, Rivals doesn't think Burns is the next Peyton Manning or anything—at least, not yet. It's possible that could change in the future.
The interest is there, though. Burns hasn't drawn as much attention as Browne, but he does have offers on the table from Boston College, Penn State, Rutgers, Stanford, Virginia and West Virginia.
That's an impressive list. You know you're doing something right as a quarterback when Stanford is interested.
Christian Hackenberg (Fork Union, Virginia)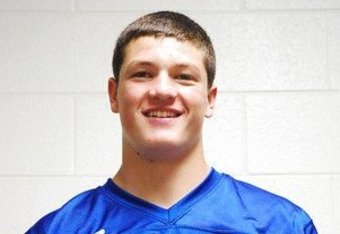 The typical pro-style quarterback compliments apply to Christian Hackenberg too. He works well in the pocket, he throws accurately and he can make a variety of different throws.
Hackenberg's resume is impressive as well. He threw for 2,200 yards and 21 touchdowns in 2011, and he led his team to a state championship as a sophomore.
Hackenberg is getting looks from all over, including SEC country. Per Rivals, he has offers on the table from Alabama, South Carolina and Tennessee. He's also being looked at by schools like Miami and Virginia Tech.
That's another impressive list.
Johnathan McRary (Ellenwood, Georgia)
Johnathan McRary is the only guy on this list who is a dual-threat quarterback, so suffice it to say he packs a different set of skills.
Throwing the football, McRary has enough arm strength to chuck it down the field. He also has speed to get up and down the field, and he does a good job of eluding the rush.
Rivals claims Alabama is after McRary too, and other schools are as well. Ohio State has an offer on the table for him, and the same goes for Florida State, Georgia, Mississippi State, Tennessee and so on.
It's far from set in stone that McRary is the best dual-threat quarterback in the country, but he looms large in the discussion.
Shane Morris (Warren, Michigan)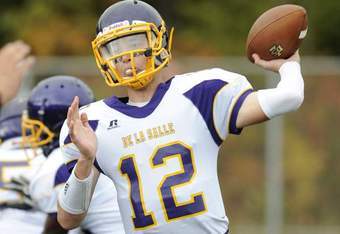 There's a chance that Shane Morris will be the next guy under center at Michigan after Denard Robinson leaves next season. Morris has already committed to play for the Wolverines (via Rivals).
That's liable to change, of course, but the Wolverines will be getting a prize if Morris keeps his commitment as is. He's yet another pro-style quarterback, totally comfortable in the pocket with an ability to accurately deliver the football.
It would therefore be extremely interesting if Michigan were to go from Robinson straight to Morris. Robinson is a lot of things, but he is definitely not a pro-style quarterback.