Super Bowl 2012 Betting: The Coin Toss, Girl-on-Girl Action and Other Weird Bets
February 1, 2012

Mike Ehrmann/Getty Images
It is expected that $10 billion will be risked on Super Bowl Sunday, and not all of it will be wagered on the game itself. Odds are that you are one of many that will be placing a wager this Sunday (I'd bet on it…), and you could in fact feel more agony and frustration over the halftime show than the final score.
I have looked through all the best prop bets for this Sunday's Super Bowl rematch of the Giants and the Patriots and have come back with some of the best (and weirdest) you can find. Whether you want to bet on the coin toss or the color of Gatorade dumped on the winning coach, I've got you covered.
The Coin Toss; New York Giants Will Make the Call
Oddly enough, the coin toss is one of the most bet on props for the Super Bowl. You will never see the odds change from -105 for heads and -105 for tails, and those odds usually stay the same for which team will win the toss. One thing that is interesting to note, however, is that the NFC has won the coin toss in each of the last 14 seasons.
So what does that all mean? Probably nothing, because you're just flipping a coin. Since we're talking about ridiculous sports bets and some of you may be taking this seriously, though, I'll go ahead and give you my pick: Patriots win the toss and will defer. It's about time that the AFC wins one, and Patriots head coach Bill Belichick recently acknowledged that in his research the team that can score at the end of the half and get the ball first in the second half wins the game 90 percent of the time.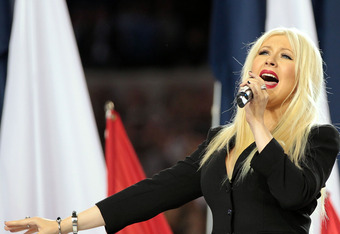 Jamie Squire/Getty Images
The National Anthem Sung by Kelly Clarkson
Last year Christina Aguilera butchered the national anthem for nearly two minutes, but because she screwed up the lyrics, some sportsbooks had to pay both sides. Don't expect Clarkson to make the same mistake this year. Aguilera's mistake should have singers on their toes for quite a while.
The over/under for length of the anthem this year is set at one minute and 34 seconds. Clarkson isn't as much of a grandstander as Aguilera, so expecting her to come close to two minutes isn't a good bet. That being said, a lot of betters will likely expect a shorter anthem playing right in to the hands of the odds makers. So in an attempt to sound like I know anything about singing, the anthem or Kelly Clarkson, I will go out on a limb and say bet the over.
The Halftime Show starring Madonna
Ever since Janet Jackson's "wardrobe malfunction," the Super Bowl has featured some less eccentric halftime shows including Tom Petty and The Heartbreakers, Bon Jovi and The Who. This year they will again be tempting their fate by letting Madonna host the show with special guests Nicki Minaj and M.I.A.
So could there be another earth-shattering, Twitter-breaking event at this year's halftime show? The boys in Vegas think there could be a chance for Madonna to at least be, well, promiscuous. You can make a bet that Madonna will kiss another woman sometime during the game, not just the halftime show. A $10 bet that Madonna lip-locks a member of the same sex will net you $50 in returns, so we say bet Madonna kisses another woman.
Of course you can bet on more than just whether or not Madonna kisses a woman; there are the more scientific bets like what color her hair will be for the show. Madonna has been rocking the blonde look a lot lately and the line opens with blonde being a -450 pick, so we say bet her hair color will be any other color for only $1 and get that $2.50 in return.
The Winning Shower
Yes, you can even bet on the color of Gatorade dumped on the winning coach. Your choice of colors include lime green (+650), yellow (+160), red (+700) and blue (+1200). There is no color I think more likely to be dumped on the coach than clear/water (+160), however.
Most teams around the league have been swapping out Gatorade for water in the second half of football games because the sugar content of Gatorade can cause some unwanted cramping later in the ball game. No matter which team wins, expect their medical staff to be on top of their game.
Another interesting prop bet surrounding the Gatorade dump is how much time will be left on the clock when the first celebratory spray is attempted. Right now the over/under is set at 40 seconds remaining, with the over being a slight favorite. It could be that the boys in Vegas don't expect the game to be close at the end…or it just means the winning team will start kneeling the ball with a minute left.
Who They Show and What They Say
You can even bet on who the camera finds in the crowd and who the announcers talk about during the game. Of course you may not be able to hear or see it all over the Cheetos munching, keg stands and arguments going on at your Super Bowl party but trust me, you can definitely lose money on it.
There are always notable celebs at the Super Bowl every year, and with so many big name stars from New York and Boston, this year will be no different. You can bet whether you will see Madonna's daughter Lourdes or Madonna's boyfriend Brahim (Bro-heem? I don't know why, but I like this bro) Zaibat at all during the telecast. We're definitely betting we see Madonna Jr. but not so sure Madonna's latest fashion accessory bro will make the cut.
The same goes for big name stars like Larry Bird, David Letterman and Bobby Knight being caught in the crowd.
No camera shot prop bet is more intriguing to us than the line on who will be shown first between Abby Manning or Giselle Bundchen, though. No offense to Mrs. Manning, but I think we can all agree that Giselle is just a bit more camera friendly. Which is why we are shocked to see that Abby Manning is favored in this bet! When you think about it though, the chances of Abby Manning getting screen time first will likely be because of whom she shares a luxury box with….
Yes, it's time to talk about Peyton Manning, Jim Irsay and Andrew Luck. There is no doubt they will be hot topics until the saga is over and Luck is drafted, so don't think for a second you will be able to escape it on Super Bowl Sunday.
The over/under on total Peyton shots is set at 5.5 with the under being slightly more of a favorite. That number seems high, but the very real possibility of a Giants win could give you that sixth shot of Peyton celebrating, and for that we say bet they show Peyton over 5.5 times.
Then there are subsequent bets as to how many times Andrew luck is discussed (O/U two times), how many times Robert Kraft is on TV (O/U four times) and how many times the NBC crew discusses Jim Irsay (O/U one time).
The most intriguing bet to make is whether or not Giselle Bundchen will end up kissing Tom Brady during the live broadcast. Shockingly, the odds are that she won't, but a correct "yes" bet will double your money. There is no guarantee that Giselle will even be at the game (in your mind doesn't count), so this is a risky bet, so pass on Giselle kissing Tom and stick to our pick of Madonna kissing another girl because that one actually seems more realistic.
Nick Sero is a writer for TheSportsCannon.com, an NFL News website that gives Fantasy Football Advice, Betting Tips and some Humor. You can follow TSC on Facebook and Twitter.