2012 Pittsburgh Steelers: The Same Uniform, Very Different Team
February 1, 2012

Gregory Shamus/Getty Images
Nike has won the right to be the official apparel provider for the NFL in 2012. Steelers President Art Rooney II, during a two-part Steelers Digest interview (one and two) has stated they will have new-look throwback jerseys, but his team isn't making any changes to the regular uniform. Though the 2012-13 iteration of the black and gold will have familiar jerseys, the team will have a brand new look and feel. 
Free Agents
With the Steelers nearly $25 million over the salary cap, look for the brass to release, restructure and otherwise remake their team from the bottom up. A short list of notables include: Unrestricted free agents Byron Leftwich, Jerricho Cotchery, Max Starks, Trai Essex, William Gay and Daniel Sepulveda. Some of the restricted free agents and exclusive rights free agents include Ramon Foster, Doug Legursky, Mike Wallace, Isaac Redman and Jeremy Kapinos. 
Other than Roehtlisberger, every quarterback is a free agent and thus a potential loss. With Dennis Dixon at the front of the line, suggesting he wants to start somewhere, he is open for a change or scenery.
Batch is last in the line, as he has been in the last few years of his career, and would probably love to retire as a Steeler. The value of having a deep quarterback cadre had been proven just last season when Leftwich was sideline for the season—a week before opening day. The Steelers had to rely on both talented Dixon and stalwart Charlie Batch.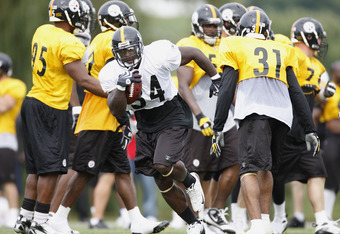 Gregory Shamus/Getty Images
Injuries
In the running back area alone, there are four backs from the 2011-12 roster rehabbing injuries this offseason. Rashard Mendenhall is coming off of an ACL tear that sidelined him for the last game of the season. His combination of explosiveness and quickness has made him the premiere back for a team that will be tested by at least a leaner-meaner Issac Redman, who took over starting duties for Mendenhall when he went down. 
Redman believes he has done enough to prove to his coach that he could be a starting back, so look for training camp to be a spirited physical discussion between Mendenhall, Redman, John Clay, Baron Batch, Mewelde Moore and Jonathan Dwyer. 
The running back coaching position is in question due to the severe burn trauma running back Coach Kirby Wilson suffered in an early morning house fire in suburban Pittsburgh, days before the AFC Wild Card game against the Broncos.
Wilson suffered burns to at least 45 percent of his arms and body—and though his burns aren't life threatening, he suffered a smoke inhalation injury that will require, according to steelers.com, "multiple operative procedures in the future." He has been credited for the growth and success both on and off the field of Mendenhall, Redman and Clay—to name a few. 
One thing is for sure; however, offensive line assistant Coach Harold Goodwin, who took over in Wilson's absence, has absconded to Indianapolis. He won't be filling the void any longer.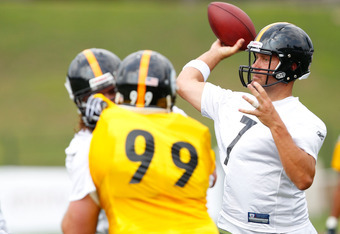 Jared Wickerham/Getty Images
Offensive Questions

The biggest, non-health related issue on offense is, of course, the chemical reaction between all-pro quarterback Ben Roethlisberger and his new—as yet to be named offensive coordinator. The Steelers interviewed former Kansas City Chiefs' Head Coach Todd Haley on Monday and are poised to bring in an OC that is more focused on the ground game than airing the ball out.  
Big Ben relayed his support for recently deposed OC Bruce Arians, who was—to put it politely—nudged into retirement by Steelers' President Rooney. The harmony, or lack thereof, with Roethlisberger, in what promises to be a more run-oriented offense—will be an interesting story to track throughout next year.
Roethlisberger has been given wide custom-tailored plays and wide latitude in the signal calling under Arians, so the dynamic with what will be his third offensive coordinator isn't a foregone conclusion.
Another complication to the Steelers squad that finished 12-4 is the retiring of Chris Hoke. Hoke was a solid backup and his presence will be missed. With Dick Lebeau returning, the defensive philosophy should remain intact. But with a year more on Aaron Smith, James Farrior, Larry Foote, James Harrison and Casey Hampton—a No. 1 ranked defense isn't a sure thing.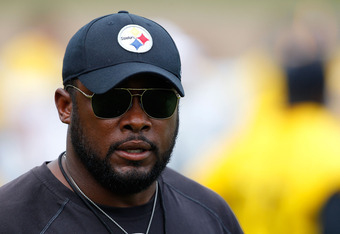 Jared Wickerham/Getty Images
Pittsburgh's pass-defense ranked No. 1 last season. Look for that trend of quality to continue even though Troy Polamalu is a year older and more worn down—yet Ike Taylor showed he was very human in the Broncos defeat that closed out the Steelers' solid season.
New Signings

The Steelers have pulled off the dark magic of replacing their aging talent, whilst keeping up dominant team performances. So don't be surprised if they continue that trend this season.
They're already working on the talent and competition for next season in their reserve-future contract signings. In addition to signing Troy Smith, who has been making the rounds in the 49ers and Ravens and Omaha Nighthawks of the UFL, the Steelers have already signed a quartet of wide receivers and a cornerback to compete in the future.
The move suggests they're looking to apply pressure from below to their talented group of young catchers and perhaps find a fourth option—as Hines Ward is in the last year of his contract and probably his NFL career. 
No matter what groups of men take the field this September, the Steelers will have no less than 15 percent attrition in their ranks. Tomlin has had incredible success in his first-half decade of work in Pittsburgh, but this year's challenges will test his ability to keep the Steelers' ship headed in the right direction.