Super Bowl Over Under: Why Fans Should Expect Another Defensive Battle
January 31, 2012

Jim McIsaac/Getty Images
Vegas currently has the 2012 Super Bowl over/under point total set at 55. The safe play is the under, even though the two teams involved are the New York Giants and New England Patriots.
These offensive juggernauts usually put up a ton of points, but against one another their respective defenses step up and make plays.
In fact, defenses in general play better in Super Bowls, with the under hitting during each of the last three matchups with a championship on the line.
The game is being held on the turf inside at Lucas Oil Stadium, but that should not make a difference in the grand scheme of things.
These two teams last met in November in New England, and the score was 24-20 in favor of New York, well under the total set for the game at 52.
Weather was no factor during that game and turnovers had a huge influence on the outcome of that game.
When the Pats and G-Men met in the 2008 Super Bowl, the total closed at 54.5 at most books. That number is extremely close to the current one and that match went under by 13.5 points.
These teams just match up so well with one another and their defensive strengths neutralize the best aspects of their offenses.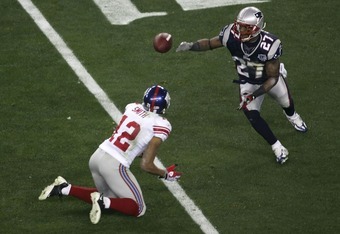 Jim McIsaac/Getty Images
For example, the Patriots are best when Tom Brady has time to sit in the pocket and pick apart the secondary. Big Blue's pass rush does not allow for this and forces him out of his normal game plan.
Eli's offense relies on home-run plays, but the Patriots opportunistic secondary has a habit of creating turnovers in clutch situations.
It's going to certainly go under this year in a close game and the final score could very well look something like 24-21, falling at least ten points short of Vegas' line.