Pacquiao vs. Mayweather: Bob Arum Confirms Mythical Bout Won't Happen in Spring
January 31, 2012

Ethan Miller/Getty Images
There's been a lot of back-and-forth about whether Manny Pacquiao and Floyd Mayweather Jr. would ever fight, but Pacquiao's promoter, Bob Arum, has now made it clear that Pacquiao will not be fighting Mayweather on May 5.
Of course, according to Arum, it's the other camp that is delaying the fight.
Said Arum of the Mayweather camp, via the LA Times:
"They don't want to fight in late May. It's dead for May, so we should sit down with everybody, let Mayweather fight someone else May 5 and we'll fight someone else June 9, and then let's get a signed contract for [Mayweather-Pacquiao] in November. That's a win-win for everybody."
Well, at least both camps seem to be open to scheduling a fight down the line. The only problem is, it's not a "win-win for everybody" because boxing fans are once again getting the short end of the stick.
What It Means
Arum said he's narrowed Pacquiao's potential opponent on June 9 to world super-welterweight champion Miguel Cotto and World Boxing Council junior-welterweight champion Timothy Bradley. He also said he'd like to announce Pacquiao's next opponent by Feb. 7 and have both camps start a national publicity tour after Feb. 18.
Pacquiao vs. Cotto would appear to be the biggest fight. Cotto defeated Antonio Margarito via TKO in December. However, Cotto's been reluctant to fight under 150 pounds, while Pacquiao won't budge from 147 pounds. Pacquiao defeated Cotto via 12th-round TKO in 2009.
Bradley isn't a big name, but he's undefeated in 29 career bouts, and he defeated Lamont Peterson in Nov. 2009. Peterson just defeated the up-and-coming Amir Khan in December; however, that fight was controversial.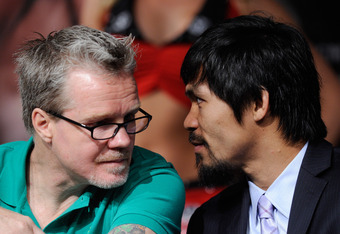 Ethan Miller/Getty Images
What's Next
Mayweather will have to find another opponent now before he serves his 87-day jail sentence for misdemeanor battery in June.
It's entirely possible that Mayweather could steal Cotto away from Pacquiao in May because he doesn't have a problem with fighting at 150 pounds or more. That potentially leaves Mayweather vs. Cotto in May and Pacquiao vs. Bradley in June.
Not exactly what boxing fans had in mind.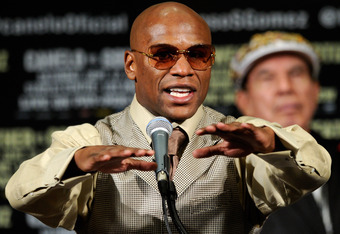 Ethan Miller/Getty Images