Super Bowl 2012 National Anthem: Kelly Clarkson Prop Bets, Odds & Predictions
January 30, 2012

Mark Metcalfe/Getty Images
While there is plenty to gain from the Super Bowl itself, the activities before the game involving Kelly Clarkson and the National Anthem are definitely something to watch. 
After all, there is always the chance she messes up or does something very memorable (good or bad).  Remember last year's debacle courtesy of Christina Aguilera?
If you need a refresher, just watch this video. 
The New York Giants and New England Patriots are going to put on one heck of a show in Super Bowl XLVI, but the great times start with pre-game festivities. 
If you're attending a Super Bowl party, prop bets are fun because you don't really have to know football to join in and it's a great way for those at the party--that are not necessarily interested in the game itself--to  have a little fun before kickoff. 
With that said, take a look at all the prop bets involving Kelly Clarkson and the National Anthem at Super Bowl XLVI. 
All prop bets found at bovada.lv. 
Length of National Anthem 
The over/under for the length Kelly Clarkson will sing the National Anthem is set at 1 minute, 34 seconds. 
Last year, Christina Aguilera easily went over that one because (a) she messed up and (b) she loves to extend the notes. 
If you wish to get serious about this, the best route to take is to focus on other National Anthem's Clarkson has sung.
At game four of the 2011 NBA Finals, she was just under the 1 minute 34 second mark. 
Since this is the Super Bowl, a much bigger sporting event, I'll take the over. Clarkson is likely to extend a few notes for dramatic effect, which means she'll take longer than 1:34. 
Clothing 
Are you wondering what Clarkson will wear while she sings? Well, you can place a friendly wager at your party, but it's probably going to be a big guess.
Unless, of course, you somehow have inside information.
If that's the case, please, do share. 
Here are the things you can bet on about what Clarkson will wear while she sings.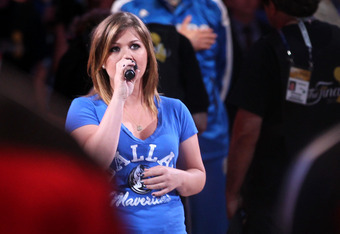 Mike Ehrmann/Getty Images
Super Bowl XLVI or official NFL shirt (+200)
Colts Jersey or shirt (+1000)  
Giants Jersey or shirt (+1500)
Patriots Jersey or shirt (+1500)
Anything else (-300) 
It's really anyone's guess as to what she wears, but as you can see, the favorite is on anything else. That's what I'd go with because I doubt she's a huge fan of either of these teams (she's from Texas). 
An official Super Bowl or NFL shirt is the next best bet, but they too are unlikely because she'll probably want to wear something more fashionable. After all, this is the biggest game of the year, so she's going to want to look nice with millions and millions of eyes watching her. 
Forgetful
Will Clarkson forget or omit at least one word?
A simple yes or no bet, but very tough to pick. It's certainly possible, but I just don't see it happening because she has done the National Anthem on the big stage before without a mishap. 
While the Super Bowl may be the biggest stage of them all, I think she will be just fine.
Skin Action? 
Yes, that's right, one of the prop bets is whether or not Clarkson's bare belly will show during the National Anthem. 
It's another simple yes or no bet, and a strange one at that. 
If she wears a t-shirt then the chances of it rising up some while she belts out the high notes is good, but at the same time, I think she'll dress up nicer than that. 
I'd have to go with a no on this one as well, simply because she isn't the scandalous type, and I think she'll likely wear a dress to prevent it from happening.