Pro Bowl 2012: Brandon Marshall and the Top Performers in NFL's Annual Showcase
January 30, 2012
Kent Nishimura/Getty Images
The NFL Pro Bowl is even more of a joke than the other all-star games in professional sports, but that didn't stop a few players from going all out in Hawaii.
With nothing more than bragging rights on the line, these three stars stepped up and put on a show in Hawaii.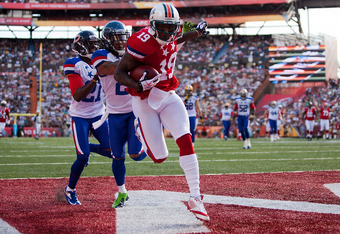 Kent Nishimura/Getty Images
Brandon Marshall often gets overlooked, but he showed how good he can be with an elite quarterback throwing him the ball.
The explosive wide receiver was the best player on the field, catching six passes for 177 yards and four touchdowns. He found paydirt in every quarter, including his ridiculous 47-yard catch in the third quarter.
Marshall caught at least one touchdown from every AFC quarterback (Ben Roethlisberger, Philip Rivers and Andy Dalton). Unfortunately, he now has to go back to a less-than-ideal QB situation in Miami.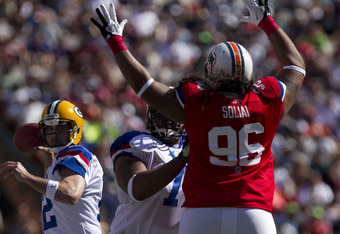 Kent Nishimura/Getty Images

Rodgers was predictably excellent in Hawaii, completing 13 of 17 passes for 143 yards and two touchdowns. He even showed off his hands in the first quarter by catching his own pass.
Rodgers was dominant in the regular season, but his dream year came to a disappointing end after his 15-1 Packers fell to the Giants in the divisional round of the NFC playoffs. His strong play on Sunday will provide little consolation for Rodgers, but at least it was fun to watch.
Eric Weddle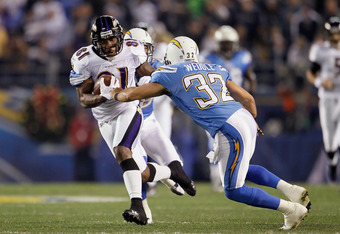 Jeff Gross/Getty Images
Weddle led the NFL with seven interceptions in the regular season. He had two more in the Pro Bowl, picking off two Cam Newton passes. He pitched his second pick to Kansas City linebacker to Derrick Johnson who rumbled in for the lone defensive touchdown on the day.
Weddle was a nuisance all day, deflecting four more passes and recording two tackles.
It was his second Pro Bowl appearance, but Weddle played like it was the last game of his career.