Pro Bowl 2012: Champ Bailey and Most Underrated Talents Playing in Hawaii
January 30, 2012

Marc Piscotty/Getty Images
Interestingly enough, in a Pro Bowl that glorifies players and selects certain NFL talents to play in a game of elites, there are those players that are still considered unsung heroes playing in this game.
The 2012 Pro Bowl features several players that are underrated in spite of receiving Pro Bowl honors this season.
Broncos CB Champ Bailey is one of these top-notch talents that is still overlooked, as he was able to anchor arguably the best defense in football and was a key component to a first-round playoff win over the Pittsburgh Steelers.
Here are the most underrated talents playing in the 2012 Pro Bowl in Honolulu. 
Champ Bailey, CB, Denver Broncos
Champ Bailey may have had under 40 tackles and just two interceptions on the season, marks which would make it seem Bailey had a falling-off year production-wise with the Broncos.
It hasn't been the numbers that have made Bailey impressive this season. Bailey has been a special player in the secondary for a Broncos team that is arguably at the top of the league.
With a Tim Tebow type of offense that requires lockdown defensive efforts, Bailey and company were able to prevail and helped take down the Steelers in the NFL playoffs. It was his tipped passes and lockdown coverage that made the difference for this team throughout the season.
Jimmy Graham, TE, New Orleans Saints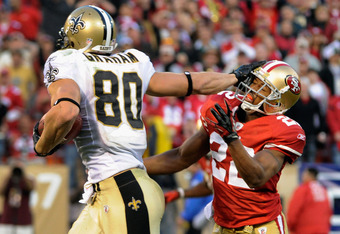 Thearon W. Henderson/Getty Images
It may surprise many that Graham makes this list, yet it was the record-setting accomplishments of New England Patriots TE Rob Gronkowski that was the reason.
Despite not matching the numbers that Gronkowski put up on the season, it was Graham that posted an impressive 1,310 yards and 11 touchdowns on the season — marks better than most receivers in the NFL.
Graham will be a tight end to be reckoned with for several years to come, as him and Gronkowski will continue to put up record-breaking numbers every season..
Gronk is good. But we mustn't forget Graham.
Vonta Leach, FB, Baltimore Ravens
Ray Rice is arguably the most dynamic, elusive running back the league has to offer. Yet it's the play of FB Vonta Leach that makes Rice's numbers stand out.
Rice put up career-high numbers in both yards and TDs, 1,364 yards and 12 TDs, as Leach was able to create holes and help lead block effectively for the smaller back.
Leach gets into the Pro Bowl in deserving fashion, helping Rice to put up numbers as solid as any RB this season.