NFL Pro Bowl 2012 Uniforms: Sneak Peek at Players' New Nike Cleats
January 29, 2012

First, the NFL and Nike team up to sheath the hands of those participating in the 2012 Pro Bowl with team-specific Vapor Jet gloves.
Then, the league unveils a line of cleats for Sunday's exhibition that will also be on display at Aloha Stadium in Honolulu, Hawaii.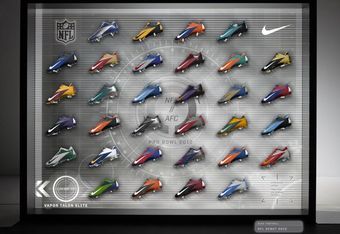 Next thing you know, the players will come running out of the tunnel in futuristic Transformer-esque suits that enable them to harness the awesome powers of their respective team's mascot. Cam Newton will morph into a ferocious blue Panther, Larry Fitzgerald will soar through the air like a Cardinal, as will LeSean McCoy, though more like an Eagle.
I'm not quite sure what would become of Drew Brees or Aaron Rodgers, though wouldn't it be fun to find out?
As far as anyone can tell, that project is still in the prototype stages of development up at Nike headquarters in Oregon.
For now, though, these new cleats should make the Pro Bowl a bit more interesting to switch over to from time to time, assuming you're not watching it from start to finish.
Between marvelous mitts (not the Romney kind), fancy footwear and, errr, Twitterific sideline tweeting, the NFL may yet have recaptured the waning interest of football fans in its nearly unwatchable All-Star game.
Now, if only Roger Goodell and his Swoosh-branded affiliates could come up with a way to convince the players to care about the contest...
Yeah, getting the Transformer suits out to market is probably a more realistic goal.