Jennifer Famiglietti: Yes, You Can Meet the Team Hoyt 2012 Marathon Team
January 28, 2012

Both marathon fans and fans simply of the human spirit are more than likely to know the story of Dick and Rick Hoyt.  The father/son team, who make their home in scenic Holland, MA, will be running in their 30th Boston Marathon this April.
This, in itself, is a truly amazing accomplishment.
The milestone is made 26.2 times more amazing by the facts that the elder Hoyt, Dick, is 71 years old, and his son, Rick, who celebrated his 50th birthday in January, has spent his life in a wheelchair.  Rick lives each day as a spastic quadriplegic with cerebral palsy, the result of oxygen deprivation at birth.
Dick pushes Rick in a wheelchair for each step of the 26.2-mile event to the delight of the millions of adoring fans who know their inspiring lifelong adventure.  Their entire story of inspiration can be found on their website at www.teamhoyt.com or on the pages of their best-selling new book, Devoted—The Story of a Father's Love for His Son.
As they do each year, Dick and Rick Hoyt have assembled a team of runners from Australia, Canada and around the country who comprise The Hoyt Foundation 2012 Boston Marathon team.
The team will be running to raise money for the Hoyt Foundation, a 501(c)(3) charity whose purpose is to help integrate disabled people into everyday activities so they may live fruitful and productive lives.
Over the next several months, I will be introducing many members of the 2012 Team Hoyt Boston Marathon Team and sharing their motivating stories and experiences as members of this inspirational group during the continuing series entitled, "Yes, You Can Meet the Team Hoyt 2012 Boston Marathon Team."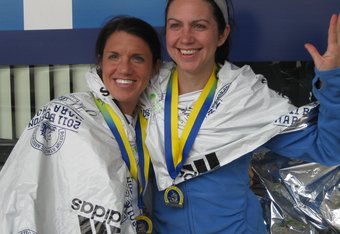 In many ways, the running story of Jennifer Famiglietti isn't quite as dramatic as many of the other members of the Team Hoyt Marathon Team.
Famiglietti has not had the misfortune of overcoming paralysis after hitting a moose, like teammate Morrie Ripley.  She has not felt the sense of self-satisfaction over losing sixty pounds, like running partner Wes Harding.  She, of course, has not had to overcome the same life long obstacles as the heart and soul of the team, Rick Hoyt.
Yet, in many ways, maybe Jennifer's story is a lot more typical of many of us.  Simply a story of living a relatively normal life, working a job that she loves and trying to use her victories and her failures as a way to teach her children how to become inspired, and motivated to grow and flourish through the obstacles and challenges we face during the course of everyday life. 
"I knew that this was meant to be", explains Famiglietti, regarding her acceptance as a runner for the Hoyt marathon team.  "You see, I work for John Hancock (principal sponsor of the Boston Marathon), and that is how I was able to run in Boston last year.  This year due to a reduction in the number of employee bibs, I was wait-listed for the JH team." 
Famiglietti, a graduate of Ithaca College with a degree in Psychology and a Master's in Social work from Simmons College, works as a social worker at John Hancock.  "I do quality assurance work, making sure that our clinical team is making the right decisions for Long Term Care Insurance claims.
"I have had to work for most things in my life, not unlike most people.  I put myself through college and grad school.  My husband and I paid for our wedding.  When I want something, I work for it.  I know the value in believing that you can do something."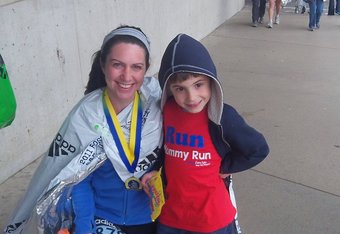 What Famiglietti wanted in this case was to feel the same exhilaration and sense of self-satisfaction that she felt the previous April, when she crossed the finish line in her first and only marathon with a very respectable time of 4:21:38. 
"I did not want to sit on the sidelines this year.  I am a person who likes to take control and did not want to wait for someone to drop out.  That's when I emailed Team Hoyt.  When I got accepted onto the team I knew it was meant to be."
Upon receiving her acceptance letter from Team Hoyt, Famiglietti, who, together with her husband Richard and sons Freddie (8) and Sammie (5) make their home in Lexington, MA, burst into spontaneous celebration. 
"I was working at home that day, and my kids were home from school.  I opened the email from Doug (Gilliland, Team Hoyt race director) and shouted 'Yes' and proceeded to jump up from my chair, in tears, shouting, 'Yes—oh my God—yes!"
"My kids were naturally curious about what made Mom smile and cry at the same time, so I told them that I would get to run the marathon again this year for a great organization.  They were so happy they immediately started work on their signs for the race."
Born in Jacksonville, Florida, Famiglietti had not run competitively since high school prior to getting a motivating nudge from her sister, Chris Samaras, who will also be running with Team Hoyt this April. 
"I was a runner in junior high and high school," laughs Famiglietti.  "I was too uncoordinated to do anything else. I tried soccer, but I could not run and kick at the same time.  I tried basketball, but could not run and dribble at the same time.  I found that I was good at running and I loved that you were a part of a team, but also competing against yourself.
"I did not run on a team in college.  I had to work and pay for my own education so my schedule did not allow for me to be a part of a team.  I considered myself 'retired' until my sister, also a runner, challenged me to run the Boston Marathon with her.  She had qualified and she knew I could get a charity number because I work for John Hancock. 
"I decided what the heck.  It would be a bucket list sort of thing." 
Like any good parent, Famiglietti tries to incorporate the Hoyts' "Yes, You Can" mantra as a way to teach and inspire her impressionable young sons. 
"YES YOU CAN is something that I want to teach and show my children.  I know that children usually learn more by what they see than what they hear.  When they see me getting ready for my training runs and they come to my races and see my medals, they are seeing it for themselves and are learning from it.  I hope that by running and training, I am showing them that if you work hard and believe in yourself you can anything.
"I use my marathon training when I help my oldest with his homework.  When he gets frustrated and says 'I can't do it. I never did this before,' I say, 'Remember when Mommy ran the marathon? I never did that before either. I had to work hard and practice.'  He knows what I mean."
Not only does her marathon training inspire her children, but it is clear that participating in the granddaddy of all marathons is a source of self-satisfaction and victory for Jennifer herself.
Running in Boston with the likes of Dick and Rick Hoyt fuels a sense of personal achievement and, in a way perhaps far less spectacular than some of her Team Hoyt counterparts, allows her to take her own personal victory lap.
"It made me realize that I could do anything I decided to, anything I was willing to work for.  Running that race, made me fall in love with the sport all over again.  My husband and children were so proud of me.  I was proud of myself and I had not had an accomplishment like that for a long time, if ever in my life.  And I am not going to lie. I like the way it makes me look."
"I would like to thank Team Hoyt for this incredible opportunity.  I did not think I would be able to top the way I felt last year crossing that finish line, but I already know that this year it is going to be that much better."
Friends, fans and supporters of Jennifer can help her achieve her fund raising goal by clicking on her Team Hoyt Crowdrise page. Last year members of the team combined to raise over $120,000 for the Hoyt Foundation.
Todd Civin is a Senior Writer for Bleacher Report. Unless otherwise noted, all quotes and photos were obtained first-hand.