Roy Oswalt and St. Louis Cardinals Reportedly Agree to Contract
January 28, 2012
Jamie Squire/Getty Images
The St. Louis Cardinals are poised to strengthen their starting rotation by signing veteran free-agent pitcher Roy Oswalt. The 34-year-old right-handed pitcher is reportedly close to a deal with the 2011 World Series champions.

Update: Saturday, January 28 at 2:25 p.m. EST
According to MLB.com, Cardinals general manager John Mozeliak has denied reports that say his team is close to a deal with free-agent pitcher Roy Oswalt.
Reached by email, Mozeliak wrote that reports were "not true," but did not elaborate. Another club official indicated that no transactions seemed to be imminent for the Cardinals.

Update: Saturday, January 28 at 12:10 p.m. EST
According to CBS Sports, Oswalt turned down a big contract offer from the Detroit Tigers, and has decided to focus on signing with a Southern team. The offer from the Tigers was reportedly one year at $10 million. Oswalt doesn't need the money at this stage of his career, and would be best served joining a contender in a place he's comfortable living in.

Update: Saturday, January 28 at 9:10 a.m. EST
ESPN Boston is reporting that Roy Oswalt is close to a contract agreement with the Cardinals, but the deal is not done yet.
Free-agent pitcher Roy Oswalt has elected to remain in the National League and is likely to sign with the St. Louis Cardinals "soon," a major league source said late Friday night.

Presumably, any agreement would be pending a physical for Oswalt, who has a history of back problems.

"It's not yet 100 percent," the source said.
Oswalt has reportedly agreed to a contract with the World Series champion St. Louis Cardinals, a source told Gordon Edes of ESPN Boston.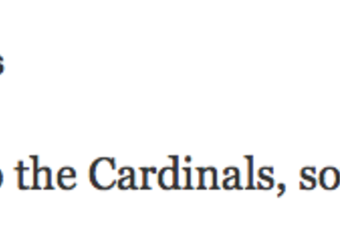 Oswalt, 34, was traded to the Philadelphia Phillies during the 2010 season from the Houston Astros, and went 9-10 last season with a 3.69 ERA for the NL East champs.
What Does This Mean?
This is an excellent signing for the Cardinals, who lost superstar first baseman Albert Pujols to the Los Angeles Angels through free agency earlier this offseason.
Oswalt is not the elite starting pitcher he used to be, but he is more than capable of performing well in the NL Central division, which doesn't have any dominating lineups other than the Milwaukee Brewers.
With starter Adam Wainwright missing all of last season with an elbow injury, Oswalt adds more depth to the Cardinals rotation. You can never have enough pitching, and the Cardinals were wise to target Oswalt to strengthen their rotation.
St. Louis will hope that Oswalt, who has a history of back problems, can be healthy for the entire 2012 season. He started 23 games last season for the Phillies.
What's Next?
The Phillies still have good depth in their starting rotation following Oswalt's departure. Roy Halladay, Cole Hamels and Cliff Lee are three of the better pitchers in baseball, but Philly would be smart to sign some low-cost, low-risk starters before spring training to battle for Oswalt's place in the rotation.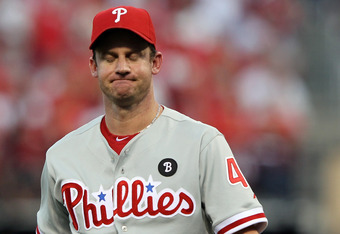 Jamie Squire/Getty Images
This deal also affects the Boston Red Sox, who reportedly offered Oswalt a contract in an effort to bolster their rotation. The poor play of starters Josh Beckett, Jon Lester and John Lackey were the primary reason Boston collapsed in September and missed the playoffs.
ESPN Boston has reported that the Red Sox are likely reengaged in trade talks with the Chicago White Sox regarding starter Gavin Floyd.
Oswalt was one of the last notable starting pitchers available on the free-agent market, which means teams looking to add quality starters before spring training will have to do so via trade.
Nicholas Goss is a Featured Columnist at Bleacher Report, follow him on Twitter.