Denver Broncos Score with Jack Del Rio Hiring
January 28, 2012

Streeter Lecka/Getty Images
On Friday, the Oakland Raiders officially announced the hiring of new head coach Dennis Allen, who served as the Denver Broncos defensive coordinator in 2011. 
It didn't take long for the Broncos to find a new DC. Here's the latest from ESPN's Adam Schefter: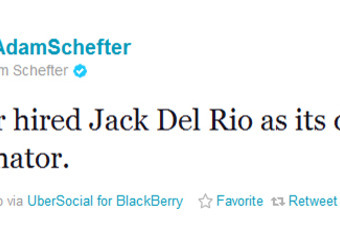 The Broncos confirmed the news a short while later via their own Twitter account: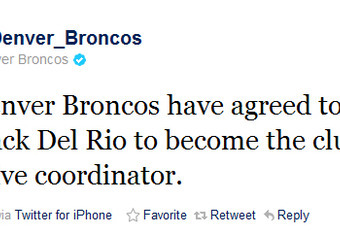 In case you're wondering, we are talking about that Jack Del Rio. The same one who was fired as the head coach of the Jacksonville Jaguars in late November.
We saw this one coming. Jason La Canfora of the NFL Network reported earlier this week that Del Rio had emerged as a candidate to be Denver's new DC, and the fit made immediate sense. Del Rio was John Fox's defensive coordinator way back in 2002, when the two were with the Carolina Panthers. Here they are again in Denver.
The 2002 partnership was a good one. Fox came in and turned a 1-15 team into a 7-9 team, and the Panthers defense was a big reason why the team was able to be successful. The Panthers allowed 18.9 points per game that year, and finished second in the league with an average of 290.4 yards allowed per game.
In 2001, the Panthers allowed 25.6 points and 371.4 points per game, the latter of which ranked dead last in the NFL.
Clearly, Del Rio and Fox made their presence felt.
Denver's defense isn't nearly as much of a project as the Panthers defense of yesteryear was. Fox's and Allen's work with the defense wasn't seen right away, but it could definitely be noticed once Denver's D turned into one of the better units in the league midway through the season. Talent was part of the equation, but Denver's defensive rebirth had more to do with good coaching.
All Del Rio has to do is step in and pick up where Allen left off, which shouldn't be too hard for him. Del Rio wasn't much of a head coach, but he deserves credit for Jacksonville's own defensive rebirth this past season. The Jags allowed over 370 total yards per game in 2010, and just 313 per game in 2011. Just like in Denver, it was good coaching that did the trick.
The Broncos made improving their defense a priority at the 2011 NFL Draft, and I'm expecting them to do the same thing in 2012. A defense that already has some good young pieces is going to get a few more good young pieces.
Del Rio merely needs to step in and make a good thing better. It's a dream job, really.